WORDS QUOTES
quotations about words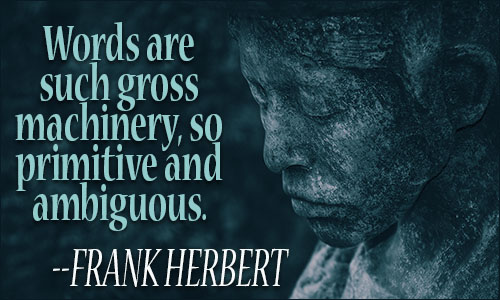 Words once spoke can never be recall'd.
WENTWORTH DILLON, Art of Poetry
8 likes
---
Words are the bricks of our world and they have the power to change it.
ENOCK MAREGESI, "East Africa: Writing for Kiswahili Language Revolution", The Citizen, February 9, 2016
7 likes
---
Human beings can reach such desperate solitude that they may cross a boundary beyond which words cannot serve, and at such moments there is nothing left for them but to bark.
ANAÏS NIN, Collages
6 likes
---
Something unfathomable lies behind every thought ... something for which there aren't any words.
PETER WEISS, The Tower
5 likes
---
The views of men can only be known, or guessed at, by their words or actions.
GEORGE WASHINGTON, letter to Patrick Henry, January 15, 1799
5 likes
---
It is a world of words that creates a world of things.
J. M. COETZEE, In the Heart of the Country
4 likes
---
Words are like butter
Rolling off my lips
Cut like a knife
And now I'm sinking battleships
GERI HALLIWELL, Passion
3 likes
---
Words used carelessly, as if they did not matter in any serious way, often allowed otherwise well-guarded truths to seep through.
DOUGLAS ADAMS, The Long Dark Tea-Time of the Soul
3 likes
---
Although they are
only breath, words
which I command
are immortal
SAPPHO, "Words"
2 likes
---
Words are only painted fire; a look is the fire itself.
MARK TWAIN, A Connecticut Yankee in King Arthur's Court
2 likes
---
Words travel as swiftly as desire, so it is possible to send a message of love without them.
LAURA ESQUIVEL, Swift as Desire
2 likes
---
One could say nothing to nobody. The urgency of the moment always missed its mark. Words fluttered sideways and struck the object inches too low. Then one gave it up; then the idea sunk back again; then one became like most middle-aged people, cautious, furtive, with wrinkles between the eyes and a look of perpetual apprehension. For how could one express in words these emotions of the body? express that emptiness there?
VIRGINIA WOOLF, To the Lighthouse
2 likes
---
Words are like that, they deceive, they pile up, it seems they do not know where to go, and, suddenly, because of two or three or four that suddenly come out, simple in themselves, a personal pronoun, an adverb, an adjective, we have the excitement of seeing them coming irresistibly to the surface through the skin and the eyes and upsetting the composure of our feelings, sometimes the nerves that can not bear it any longer, they put up with a great deal, they put up with everything, it was as if they were wearing armor, we might say.
JOSÉ SARAMAGO, Blindness
2 likes
---
The words were on their way, and when they arrived, she would hold them in her hands like the clouds, and she would wring them out like the rain.
MARKUS ZUSAK, The Book Thief
2 likes
---
Words, in their distant past, have the past of my reveries. For a dreamer, a dreamer of words, they are all swollen with insanities. Besides, let anyone dream, and incubate a very familiar word for a little while. Then the must unexpected rare things hatch out of the word which was sleeping in its inert meaning, like a fossil of meaning.
GASTON BACHELARD, The Poetics of Reverie: Childhood, Language, and the Cosmos
2 likes
---
Desires and words go hand in hand ... they are moved by the same intention to join together, to communicate, to establish bridges between people, whether they are spoken or written.
LAURA ESQUIVEL, Swift as Desire
1 likes
---
The poet cannot invent new words every time, of course. He uses the words of the tribe. But the handling of the word, the accent, a new articulation, renew them.
EUGENE IONESCO, Present Past / Past Present
1 likes
---
The great enemy of clear language is insincerity. When there is a gap between one's real and one's declared aims, one turns, as it were, instinctively to long words and exhausted idioms, like a cuttlefish squirting out ink.
GEORGE ORWELL, The Lion and the Unicorn
1 likes
---
You take many words to say simple things.
LILLIAN HELLMAN, The Autumn Garden
1 likes
---
Words are soldiers of fortune
Hired by different ideas.
MAXWELL BODENHEIM, "Impulsive Dialogue"
1 likes
---