WORSHIP QUOTES
quotations about worship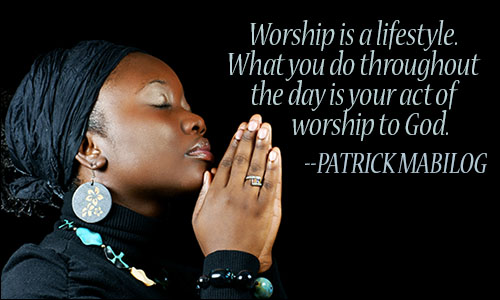 God has no need for our worship. It is we who need to show our gratitude for what we have received.
THOMAS AQUINAS, attributed, Treasury of Spiritual Wisdom
1 likes
---
God, if Thou dost never answer another prayer while I live on this earth, I will still worship Thee as long as I live and in the ages to come for what Thou hast done already.
A. W. TOZER, Essays on Prayer
1 likes
---
I love the freedom of my wings. I love the empty space above the ground. I rejoice in my freedom. Freedom is my religion. Peace is my God. Love is my worship.
BANANI RAY, World Peace: The Voice of a Mountain Bird
1 likes
---
Worship is a lifestyle. What you do throughout the day is your act of worship to God.
PATRICK MABILOG, "4 misleading concepts on worship", Christian Today, February 5, 2016
1 likes
---
Either we worship something worthy of ourselves, something truly beyond ourselves, an utter mystery of truth and love and beauty, or we find something small and mean and make it our God, usually without the clarity of admitting that to ourselves.
TERRANCE W. KLEIN, "The Place Where I Worship", America Magazine, February 13, 2016
1 likes
---
It is only when men begin to worship that they begin to grow.
CALVIN COOLIDGE, speech, July 6, 1922
0 likes
---
The powerless worship Luck and Fate.
MASON COOLEY, City Aphorisms
0 likes
---
Freedom of speech is of no use to a man who has nothing to say and freedom of worship is of no use to a man who has lost his God.
FRANKLIN D. ROOSEVELT, speech, November 2, 1940
0 likes
---
Worship is the earthly act by which we most distinctly recognize our personal immortality; men who think that they will be extinct a few years hence do not pray. In worship we spread out our insignificant life, which yet is the work of the Creator's hands, and the purchase of the Redeemer's blood, before the Eternal and All-Merciful, that we may learn the manners of a higher sphere, and fit ourselves for companionship with saints and angels, and for the everlasting sight of the face of God.
HENRY PARRY LIDDON, Sermons Preached Before the University of Oxford
0 likes
---
The various modes of worship, which prevailed in the Roman world, were all considered by the people as equally true; by the philosopher, as equally false; and by the magistrate, as equally useful.
EDWARD GIBBON, The Decline and Fall of the Roman Empire
0 likes
---
Worship is the common sense of faith in a life to come; and the hours we devote to it will assuredly be among those upon which we shall reflect with most thankful joy when all things here shall have fallen into a very distant background, and when through the Atoning Mercy our true home has been reached at last.
HENRY PARRY LIDDON, Sermons Preached Before the University of Oxford
0 likes
---
A life of kindness is the primary meaning of divine worship.
EMANUEL SWEDENBORG, New Jerusalem and Its Heavenly Doctrine
0 likes
---
If we do not endeavor to imitate Him whom we worship, we do not worship Him in sincerity.
HANNAH MORE, Practical Piety: Or, The Influence of the Religion of the Heart on the Conduct of the Life
0 likes
---
Everybody worships. The only choice we get is what to worship.
DAVID FOSTER WALLACE, This Is Water: Some Thoughts, Delivered on a Significant Occasion, about Living a Compassionate Life
0 likes
---
Worship changes the worshiper into the image of the One worshiped.
JACK W. HAYFORD, The Heart of Praise: Daily Ways to Worship the Father with Psalms
0 likes
---
Worship is man's highest end, for it is the employment of his highest faculties and affections on the sublimest subject.
WILLIAM ELLERY CHANNING, Perfect Life
0 likes
---
God is to be praised with the voice, and the heart should go therewith in holy exultation.
CHARLES HADDON SPURGEON, The Treasury of David
0 likes
---
It is not he who knows most, nor he who hears most, nor yet he who talks most, but he who exercises grace most, who has most communion with God.
THOMAS BROOKS, attributed, Dictionary of Burning Words of Brilliant Writers
0 likes
---
Supplication, worship, prayer are no superstition; they are acts more real than the acts of eating, drinking, sitting or walking. It is no exaggeration to say that they alone are real, all else is unreal.
MAHATMA GANDHI, The Story of My Experiments With Truth
0 likes
---
As worship begins in holy expectancy, it ends in holy obedience.... Holy obedience saves worship from becoming an opiate, an escape from the pressing needs of modern life.
RICHARD J. FOSTER, Celebration of Discipline: The Path to Spiritual Growth
0 likes
---