YOGA QUOTES
quotations about yoga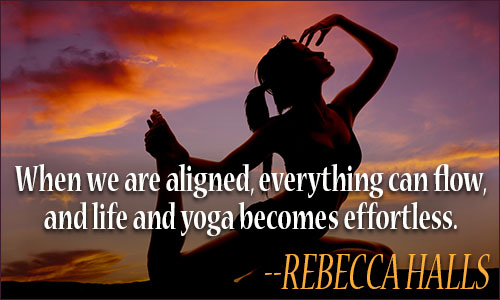 Yoga is really the art of waking up. Getting back to the true you. It can be that simple.
ADRIENE MISHLER, "Yoga With Adriene Is This Year's Most Googled Fitness YouTuber", Grazia Daily
4 likes
---
This, then, is the first definition of yoga: walking through the fire of refusing our first reactions, knowing that while we might not choose our circumstances, we can choose our responses to them.
SWAMI AMBIKANANDA SARASWATI, "What is yoga? You asked Google - here's the answer", The Guardian, February 22, 2017
4 likes
---
Just teaching the physical aspect of yoga is like having a stillborn baby. It is not only inefficient; it is a tragedy.
SADHGURU, Inner Engineering: A Yogi's Guide to Joy
4 likes
---
Sit still. Stop thinking.
ALEISTER CROWLEY, Eight Lectures on Yoga
3 likes
---
Yoga powers. To make oneself invisible or small. To become gigantic and reach to the farthest things. To change the course of nature. To place oneself anywhere in space or time ... in one's deepest inner mind, or in the minds of others.
JIM MORRISON, The Lords: Notes on Vision
3 likes
---
As the trunk is one but the branches are many, yoga is one but adaptations may vary.
B. K. S. IYENGAR, "Yoga: A Path to Wholeness", BeliefNet
3 likes
---
Yoga is about clearing away whatever is in us that prevents our living in the most full and whole way. With yoga, we become aware of how and where we are restricted -- in body, mind, and heart -- and how gradually to open and release these blockages. As these blockages are cleared, our energy is freed. We start to feel more harmonious, more at one with ourselves. Our lives begin to flow -- or we begin to flow more in our lives.
CYBELE TOMLINSON, Simple Yoga
2 likes
---
What yoga philosophy and all the great Buddhist teachings tells us is that solidity is a creation of the ordinary mind and that there never was anything permanent to begin with that we could hold on to. Life would be much easier and substantially less painful if we lived with the knowledge of impermanence as the only constant.
DONNA FARHI, Yoga Mind, Body & Spirit
2 likes
---
The most important pieces of equipment you need for doing yoga are your body and your mind.
RODNEY YEE, Yoga: The Poetry of the Body
1 likes
---
Yoga is ideal for calming the mind and harmonizing with nature. Plus, since this meditation consists of listening to what's taking place in the instant, it brings the mind into the present, where the body resides, producing unification of mind and body.
H. E. DAVEY, Japanese Yoga: The Way of Dynamic Meditation
1 likes
---
A lot of times people will think, "I'm strong, I'm in shape; why can't I do this pose?" But that's not the point. There's nothing to win in yoga. You just do what you can do, one day to the next.
ADAM LEVINE, "How Adam Levine Finds Strength, Focus, and Balance", Men's Health
1 likes
---
A photographer gets people to pose for him. A yoga instructor gets people to pose for themselves.
TERRI GUILLEMETS, attributed, Quote Unquote
1 likes
---
Yoga calms me down. It's a therapy session, a workout, and meditation all at the same time!
JENNIFER ANISTON, attributed, The Little Red Book of Yoga Wisdom
1 likes
---
So, is the well-toned figure sweating it out on the yoga mat doing yoga? Yes, by using the body the yogi trains the attention to handle the perennial questions. But the person walking their dog beside the river and contemplating the truth behind self, life and death, is also doing yoga. The beauty of yoga is that it meets us wherever we are and then invites us to continue the exploration.
SWAMI AMBIKANANDA SARASWATI, "What is yoga? You asked Google - here's the answer", The Guardian, February 22, 2017
1 likes
---
Combined with values, Yoga is the only source of hope for humanity to restore peace. Remember, without practice of yoga, unbridled consumerism and reinless commercialism cannot be kept under checks and balances and neither can man have purity of thought nor peace of mind. A conscious effort to incorporate yoga into our lives is necessary to face all shades of extremism within ourselves and out there in the world.
RAJYOGI BRAHMAKUMAR NIKUNJ, "The power of yoga: a peace offering to oneself", The Indian Express, March 16, 2017
1 likes
---
If you work on yoga, yoga will work on you.
BABA HARI DASS, attributed, Sun, Moon & Earth: The Sacred Relationship of Yoga & Ayurveda
1 likes
---
The meaning of our self is not to be found in its separateness from God and others, but in the ceaseless realisation of yoga, of union; not on the side of the canvas where it is blank, but on the side where the picture is being painted.
RABINDRANATH TAGORE, Sadhana: The Realization of Life
0 likes
---
The word yoga comes from Sanskrit, the language of ancient India. It means union, integration, or wholeness. It is an approach to health that promotes the harmonious collaboration of the human being's three components: body, mind, and spirit.
STELLA WELLER, Yoga
0 likes
---
There is no waiting and no delayed gratification because yoga is both the means and the result, and the seed of all that is possible is present at the very beginning. This experience of stillness is possible in the first ten minutes of your first yoga class. It is possible in this very breath.
DONNA FARHI, Yoga Mind, Body & Spirit
0 likes
---
Yoga heals, nourishes, and challenges us. The practice infiltrates every corner of our lives.
VALERIE JEREMIJENKO, How We Live Our Yoga
0 likes
---