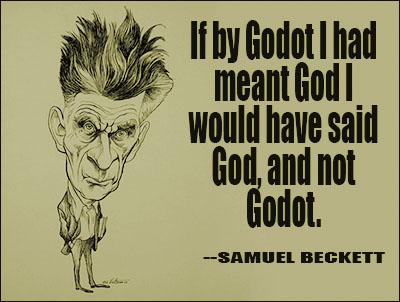 They give birth astride of a grave, the light gleams an instant, then it's night once more.
SAMUEL BECKETT, Waiting for Godot
Don't wait to be hunted to hide, that's always been my motto.
If I was dead, I wouldn't know I was dead. That's the only thing I have against death. I want to enjoy my death.
SAMUEL BECKETT, Eleutheria
We are all born mad. Some remain so.
SAMUEL BECKETT, Waiting for Godot
past moments old dreams back again or fresh like those that pass or things things always and memories I say them as I hear them murmur them in the mud
SAMUEL BECKETT, How It Is
Better hope deferred than none.
God is a witness that cannot be sworn.
Have you not done tormenting me with your accursed time! It's abominable! When! When! One day, is that not enough for you, one day he went dumb, one day I went blind, one day we'll go deaf, one day we were born, one day we shall die, the same day, the same second, is that not enough for you?
SAMUEL BECKETT, Waiting for Godot
all these calculations yes explanations yes the whole story from beginning to end yes completely false yes
SAMUEL BECKETT, How It Is
Let us not waste our time in idle discourse!
SAMUEL BECKETT, Waiting for Godot
Our vulgar perception is not concerned with other than vulgar phenomena.
I pause to record that I feel in extraordinary form. Delirium perhaps.
SAMUEL BECKETT, Malone Dies
My mistakes are my life.
SAMUEL BECKETT, How It Is
Where I am, I don't know, I'll never know, in the silence you don't know, you must go on, I can't go on, I'll go on.
SAMUEL BECKETT, The Unnamable
There's man all over for you, blaming on his boots the faults of his feet.
SAMUEL BECKETT, Waiting for Godot
In me there have always been two fools, among others, one asking nothing better than to stay where he is and the other imagining that life might be slightly less horrible a little further on.
If by Godot I had meant God I would have said God, and not Godot.
SAMUEL BECKETT, The Essential Samuel Beckett: An Illustrated Biography
another story leave it dark no the same story not two stories leave it dark all the same like the rest a little darker a few words all the same a few old words like for the rest stop panting let it stop
SAMUEL BECKETT, How It Is
Ah, the old questions, the old answers, there's nothing like them!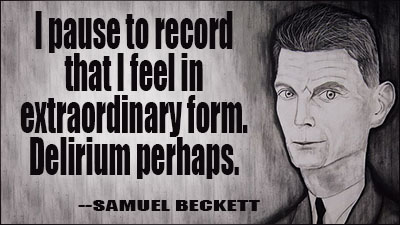 All this business of a labour to accomplish, before I can end, of words to say, a truth to recover, in order to say it, before I can end, of an imposed task, once known, long neglected, finally forgotten, to perform, before I can be done with speaking, done with listening, I invented it all, in the hope it would console me, help me to go on, allow me to think of myself as somewhere on a road, moving, between a beginning and an end, gaining ground, losing ground, getting lost, but somehow in the long run making headway.
SAMUEL BECKETT, The Unnamable
Every word is like an unnecessary stain on silence and nothingness.
SAMUEL BECKETT, The Letters of Samuel Beckett
You're on Earth. There's no cure for that.
The sun shone, having no alternative, on the nothing new.
they are not memories no he has no memories no nothing to prove he was ever above no in the places he sees no but he may have been yes skulking somewhere yes hugging the walls yes by night yes he can't affirm anything no deny anything no so one can't speak of memories no but at the same time one can speak of them yes
SAMUEL BECKETT, How It Is
Nothing is more real than nothing.
SAMUEL BECKETT, Malone Dies
To restore silence is the role of objects.
The only sin is the sin of being born.
SAMUEL BECKETT, "Samuel Beckett Talks About Beckett," Vogue, Dec. 1969
Normally I didn't see a great deal. I didn't hear a great deal either. I didn't pay attention. Strictly speaking I wasn't there. Strictly speaking I believe I've never been anywhere.
those words of old in their place of old end of part three and last present formulation at the end before the silence the panting without pause the animal in want of air the mouth murmuring them in the mud and the continuation of old when the panting stops ten words fifteen words a murmur to the mud
SAMUEL BECKETT, How It Is
Yes, yes, it's the most comical thing in the world. And we laugh, we laugh, with a will, in the beginning. But it's always the same thing. Yes, it's like the funny story we have heard too often, we still find it funny, but we don't laugh any more.
Tears and laughter, they are so much Gaelic to me.
Deplorable mania, when something happens, to inquire what.
SAMUEL BECKETT, The Unnamable
Yesterday is not a milestone that has been passed, but a daystone on the beaten track of the years, and irremediably part of us, within us, heavy and dangerous. We are not merely more weary because of yesterday, we are other, no longer what we were before the calamity of yesterday.
SAMUEL BECKETT, "Proust", Samuel Beckett: Poems, Short Fiction, and Criticism
He who has waited long enough, will wait forever. And there comes the hour when nothing more can happen and nobody more can come and all is ended but the waiting that knows itself in vain.
SAMUEL BECKETT, Malone Dies
in reality we are one and all from the unthinkable first to the no less unthinkable last glued together in a vast imbrication of flesh without breach or fissure
SAMUEL BECKETT, How It Is
My life, my life, now I speak of it as of something over, now as of a joke which still goes on, and it is neither, for at the same time it is over and it goes on, and is there any tense for that? Watch wound and buried by the watchmaker, before he died, whose ruined works will one day speak of God, to the worms.
The end is in the beginning and yet you go on.
Ever tried. Ever failed. No matter. Try again. Fail again. Fail better.
SAMUEL BECKETT, Worstward Ho!
The fact is, it seems, that the most you can hope is to be a little less, in the end, the creature you were in the beginning, and the middle.
Browse Samuel Beckett Quotes II
Samuel Beckett - a biography.
Endgame - a synopsis and analysis of the play by Beckett.
Quotes on Absurdism - a collection of quotations on the Theatre of the Absurd.
Theatre of the Absurd - a history and analysis of this dramatic movement, which includes the work of such dramatists as Beckett, Ionecso, Genet and Pinter.
Three Plays of the Absurd - In this collection of plays, Walter Wykes creates a series of modern myths, tapping into something in the strata of the subconscious, through ritualism and rich, poetic language. The worlds he creates are brand new and hilarious, yet each contains an ancient horror we all know and cannot escape and have never been able to hang one definitive word on.
Waiting for Godot - a synopsis and analysis of the play by Beckett.