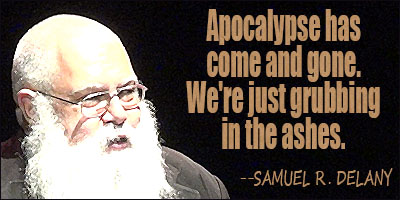 The truth is always multiplex.
SAMUEL R. DELANY, Empire Star
Ambition like a liquid ruby stains.
SAMUEL R. DELANY, Babel-17
If you are to stay in the good graces of the powerful, you had best, however unobtrusively, please the servants of the powerful.
SAMUEL R. DELANY, Neverÿon
There's a river crashing by us. But we can only go down to drink one place and it's called "now."
The only important elements in any society are the artistic and the criminal, because they alone, by questioning society's values, can force it to change.
SAMUEL R. DELANY, Empire Star
Spending practically every minute of your day on pure survival is an absolutely boring life.
SAMUEL R. DELANY, Neverÿon
Sometimes you want to say things, and you're missing an idea to make them with, and missing a word to make the idea with. In the beginning was the word. That's how somebody tried to explain it once. Until something is named, it doesn't exist.
SAMUEL R. DELANY, Babel-17
The night ... it is filled with bestial watchmen, trammeling the extremities and the interstices of the timeless city, portents fallen, constellated deities plummeting in ash and smoke, roaming the apocryphal cities, the cities of speculation and reconstituted disorder, of insemination and incipience, swept round with the dark.
SAMUEL R. DELANY, Dhalgren
Words mean things. When you put them together they speak. Yes, sometimes they flatten out and nothing they say is real, and that is one kind of magic. But sometimes a vision will rip up from them and shriek and clank wings clear as the sweat smudge on the paper under your thumb. And that is another kind.
SAMUEL R. DELANY, Equinox
It was easier to lie with a gesture than a word.
SAMUEL R. DELANY, Babel-17
Consider: you're inventing language and you come on an object for the first time, so you name it 'tree.' Then you go on and you find another object. You have the choice of calling it tree-only-with-special-properties, such as squat, hard, gray, leafless, and branchless, for instance -- or you can name it a completely different object, say: 'rock.' And then the next object you encounter you may decide is a 'big rock,' or a 'boulder,' or a 'bush,' or 'a small, squat tree,' and so on. Now two languages will not only have different words for the same things, but they will end up having divided those same things up into categories and properties along completely different lines. And that division, as much or more than the different words themselves, will naturally mold all the thinking of the people who use that language.
SAMUEL R. DELANY, Neverÿon
I still believe pattern fascinates on its own. And three-sevenths of a pattern, or even a smaller fragment, can fascinate still more--get us really hunkering down, trying to tease out the whole of the figure in the carpet.
SAMUEL R. DELANY, Rain Taxi, winter 2000/2001
It is not that I have no past. Rather, it continually fragments on the terrible and vivid ephemera of now.
SAMUEL R. DELANY, Dhalgren
Power -- the great power that shattered lives and twisted the course of nations -- was like a fog over a meadow at evening. From any distance, it seemed to have a shape, a substance, a color, an edge, yet as you approached it, it seemed to recede before you. Finally, when common sense said you were at its very center, it still seemed just as far away, only by this time it was on all sides, obscuring any vision of the world beyond it.... Was this phenomenon ... the reason why such men, who were truly concerned with the workings of power, chose to stay away from its center, so that they might never lose sight of power's contours?
SAMUEL R. DELANY, Neverÿon
Fiction -- at least for me -- requires long, relatively uninterrupted time stretches in which to bring it to fruition. I've never been a two-hour-in-the-morning writer, who could put in another six hours on Sunday afternoon. For me, a novel requires weeks of living in a largely mental and wholly internal landscape. Everything else has to be relegated to the odd hour here, the bit of time there. Sadly, however, uninterrupted time blocks are not what life doles out today to any of us with regularity.
SAMUEL R. DELANY, SF Site interview, Apr. 2001
Apocalypse has come and gone. We're just grubbing in the ashes.
SAMUEL R. DELANY, Dhalgren
Childhood is that time in which we never question the fact that every adult act is not only an autonomous occurrence in the universe, but that it is also filled, packed, overflowing with meaning, whether that meaning works for ill or good, whether the ill or good is or is not comprehended.
SAMUEL R. DELANY, Neverÿon
Reality must prove itself again and again to questioners ... it is the fantasy which goes on without contradiction, without having to prove itself.
SAMUEL R. DELANY, The Fall of the Towers
In a very real way, one writes a story to find out what happens in it. Before it is written it sits in the mind like a piece of overheard gossip or a bit of intriguing tattle. The story process is like taking up such a piece of gossip, hunting down the people actually involved, questioning them, finding out what really occurred, and visiting pertinent locations. As with gossip, you can't be too surprised if important things turn up that were left out of the first-heard version entirely; or if points initially made much of turn out to have been distorted, or simply not to have happened at all.
SAMUEL R. DELANY, The Jewel-Hinged Jaw
The pulp hero, though he may be a renegade, is a guy who doesn't feel. Anything. Ever. And for the adolescent male — pummeled by emotions left and right, whether arising from sexuality or resulting from his necessary encounters with authority — this hero is a blessing, a relief and a release. The world he lives in, where feelings are totally under control, looks to the adolescent boy like heaven! This hero's lack of feeling — like Star Trek's Spock — is what allows him to be a genius, or allows him to shoot the bad guys and/or aliens, without a quiver to his lip.
SAMUEL R. DELANY, Nerve interview, Jun. 14, 2001
Each of us, with money, gets further and further away from those moments where the hand pulls the beet root from the soil, shakes the fish from the net into the basket -- not to mention the way it separates us from one another, so that when enough money comes between people, they lie apart like parts of a chicken hacked up for stewing.
SAMUEL R. DELANY, Neverÿon
Do you know how hard it is to make a home?... That's something that a woman does from inside herself. You do it in the face of all sorts of opposition. Husbands are very appreciative when it works out well. But they're not that anxious to help. It's understandable. They don't know how.
SAMUEL R. DELANY, Dhalgren
You are that most ambiguous of citizens, the writer.
SAMUEL R. DELANY, The Motion of Light in Water
It's only ... when we're stripped of purpose that we know who we are.
SAMUEL R. DELANY, Dhalgren
It is easier to argue that something nobody believes in actually exists than it is to argue that something everybody believes in is unreal.
SAMUEL R. DELANY, Neverÿon
I suspect most of life takes place in the interstices of what's already been articulated.
SAMUEL R. DELANY, Rain Taxi, winter 2000/2001
Now seems pretty specious to me ... for it's just a hole, a little hole on whose rim we've been allowed, for an eye's blink, to perch, watching that flow ... in which the future hisses through to heap the potter's field of the past.
SAMUEL R. DELANY, Dhalgren
We try to bring up our children so that they are protected from the world's evils, only to find we've raised a pack of innocents who seem to be about to stumble into them at every turn just from sheer stupidity!
SAMUEL R. DELANY, Neverÿon
The strange machinery by which a reputation precedes its source we all know is faulty. Yet how much faith we put in it!
SAMUEL R. DELANY, Dhalgren
In the arts, people are always waiting for someone or some movement to "fulfill her/its/his promise." Then, half-a-dozen or a dozen years on, others begin to realize that, really, something extraordinary was actually happening.
SAMUEL R. DELANY, SF Site interview, Apr. 2001
Human beings being what they are, order spreads, given half a chance, almost as fast as confusion.
SAMUEL R. DELANY, The Fall of the Towers
Power is all. Another falsification; I do not tell how I gain or maintain it. I only record the ginger stroll through the vaguely fetid garden of its rewards.
SAMUEL R. DELANY, Dhalgren