REASON QUOTES
quotations about reason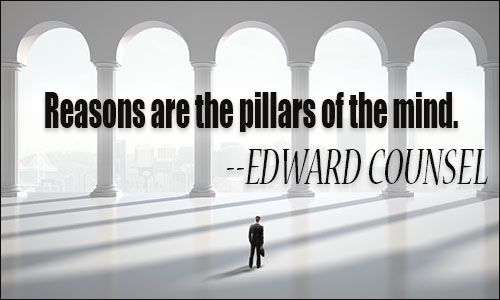 The reasonable man adapts himself to the world: the unreasonable one persists in trying to adapt the world to himself. Therefore all progress depends on the unreasonable man.
GEORGE BERNARD SHAW, Maxims for Revolutionists
3 likes
---
As soon as we abandon our own reason, and are content to rely upon authority, there is no end to our troubles.
BERTRAND RUSSELL, An Outline of Intellectual Rubbish
2 likes
---
Thought is what makes humans human ... It's the luminous spark of reason that grants us lordship over the animals, endows us with cell phones, and offers hope, even in our darkest hours, that our species will somehow calculate the way forward to a brighter tomorrow.
BRUNO MADDOX, Discover magazine, May 2006
2 likes
---
Reasons are the pillars of the mind.
EDWARD COUNSEL, Maxims
2 likes
---
Men may be divided into two classes, according to the use they make of reason. Some men employ reason, or, as it is more commonly called, SENSE, to defend error by argument; others employ it, to discover and distinguish truth: the power, therefore, which we call SENSE, may exist without its use; and it is only valuable, in proportion as the mind is candid, dispassionate, impartial, and unprejudiced.
FULKE GREVILLE, Maxims, Characters, and Reflections
2 likes
---
A display of reason rather than a threat of force should be the determining factor in the intercourse among nations.
CALVIN COOLIDGE, inaugural address, March 4, 1925
2 likes
---
Reason is God's greatest gift to man.
SOPHOCLES, Antigone
1 likes
---
Reason is man's instrument for arriving at the truth, intelligence is man's instrument for manipulating the world more successfully; the former is essentially human, the latter belongs to the animal part of man.
ERICH FROMM, The Sane Society
1 likes
---
I am the eternal optimist. I think that, over time, people respond to civility and -- and rational argument.
BARACK OBAMA, press conference, February 9, 2009
1 likes
---
Never get angry. Never make a threat. Reason with people.
MARIO PUZO, The Godfather
1 likes
---
Men's reasonings on practical subjects are not cold, logical processes, standing separate in the mind, but are carried on in intimate connection with their prevalent feelings and modes of thought. Generally speaking, that, and that only, is truth to a man which accords with the common tone of his mind, with the mass of his impressions, with the results of his experience, with his measure of intellectual development, and especially with those deep convictions and biases which constitute what we call character.
WILLIAM E. CHANNING, Thoughts
1 likes
---
Reason is always weak where prejudice is strong.
NORMAN MACDONALD, Maxims and Moral Reflections
1 likes
---
Come, let us reason together, saith the Lord, that there may be lights in the firmament of the heaven, and they may shine upon the earth.
ST. AUGUSTINE, Confessions
1 likes
---
Our reason is always disappointed by the inconstancy of appearances.
BLAISE PASCAL, Pensées
0 likes
---
Prejudice is not bigotry or superstition, although prejudice sometimes may degenerate into these. Prejudice is pre-judgment, the answer with which intuition and ancestral consensus of opinion supply a man when he lacks either time or knowledge to arrive at a decision predicated upon pure reason.
RUSSELL KIRK, The Conservative Mind
0 likes
---
Never, never do violence to your rational nature. He who in any case admits doctrines which contradict reason, has broken down the great barrier between truth and falsehood, and lays open his mind to every delusion.
WILLIAM E. CHANNING, Thoughts
0 likes
---
Reason, like the Sun, is common to all; and 'tis for want of examining all by the same light and measure, that we are not all of the same mind: For all have it to that end, though not all do use it so.
WILLIAM PENN, Some Fruits of Solitude
0 likes
---
Reasons are not like garments, the worse for wearing.
ROBERT DEVEREUX, to Lord Willoughby, January 4, 1598
0 likes
---
There are so many kinds of madness, so many ways in which the human brain may go wrong; and so often it happens that what we call madness is both reasonable and just. It is so. Yes. A little reason is good for us, a little more makes wise men of some of us--but when our reason over-grows us and we reach too far, something breaks and we go insane.
JAMES OLIVER CURWOOD, "The Case of Beauvais", Back to God's Country and Other Stories
0 likes
---
Who builds on Reason builds upon the sand
A fabric mortal as the human brain.
FRANCIS HOWARD WILLIAMS, "Sic Itur Ad Astra"
0 likes
---