RETIREMENT QUOTES
quotations about retirement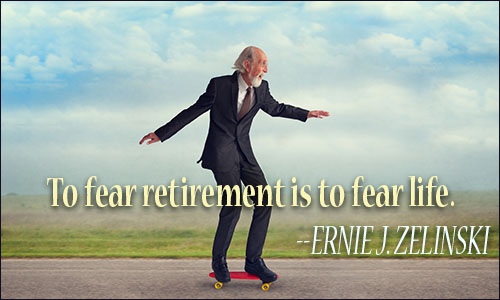 Retirement only means that it is time for a new adventure.
ANONYMOUS
2 likes
---
I want to take retirement rather than feel as if it's taking me unawares. Maybe even seize it joyously. But at least behold it without looking back so longingly that I turn into a pillar of regret.
CARL H. KLAUS, Taking Retirement
1 likes
---
Retirement, it seems, is the final fling. The love boat, the trip-around-the-world.
CARL H. KLAUS, Taking Retirement
1 likes
---
Retirement wasn't a reward at the end of a well-run career ... it was a void surrounded by endless dull hours, haunted by memories of work.
NORA ROBERTS, Blue Smoke
1 likes
---
I think that retirement is the first step towards the grave.
HUGH HEFNER, interview, Nightline, July 22, 2010
1 likes
---
I never understood retirement. What is the attraction of retirement? I go down there to Florida and look around and I said, my God, who wants this? Not me.
ANDY ROONEY, Larry King Live, June 5, 2002
1 likes
---
Retirement is when you stop living at work and start working at living.
ANONYMOUS
1 likes
---
To fear retirement is to fear life.
ERNIE J. ZELINSKI, How to Retire Happy, Wild, and Free
1 likes
---
Retirement is the prison and punishment of the fool, the paradise of the wise and good.
RICHARD LUCAS, attributed, Day's Collacon
1 likes
---
When you retire, you switch bosses from the one who hired you to the one who married you.
GENE PERRET, attributed, Reboot!: What to Do when Your Career is Over But Your Life Isn't
1 likes
---
Retirement at sixty-five is ridiculous. When I was sixty-five I still had pimples.
GEORGE BURNS, attributed, The Ultimate Book of Quotations
1 likes
---
When a man retires and time is no longer a matter of urgent importance, his colleagues generally present him with a watch.
R. C. SHERRIFF, Reader's Digest, Volume 67, 1955
1 likes
---
The trouble with retirement is that you never get a day off.
ABE LEMONS, attributed, Funny Things Happen in the Press Room
1 likes
---
Well, my retirement plan's a coffee can and it's full of IOUs.
JEFF BATES, "Already Spent"
1 likes
---
Retirement don't fit in my plans
You can keep your seat I'm a gonna stand
An Eskimo needs a Fridgedaire
Like I need your rockin' chair
GEORGE JONES, "I Don't Need Your Rockin' Chair"
1 likes
---
I don't have a retirement plan
Just a hundred acre piece of black dirt land
And a red tractor sittin' in the shed
KRISTY LEE COOK, "Plant the Seed"
1 likes
---
Retirement is not a static event, fixed in time with a gold watch to mark it. Rather retirement -- if that is even the right word -- is a multidirectional process that can take many years.
ALICE RADOSH, Women Confronting Retirement
0 likes
---
Having purpose and vision during retirement is one of the most important determinants of mental, social, spiritual, and physical well-being in later life.
HAROLD G. KOENIG, Purpose and Power in Retirement
0 likes
---
Men and women approaching retirement age should be recycled for public service work, and their companies should foot the bill. We can no longer afford to scrap-pile people.
MAGGIE KUHN, Ms. Magazine, July 1973
0 likes
---
People who refuse to rest honorably on their laurels when they reach "retirement" age seem very admirable to me.
HELEN HAYES, My Life in Three Acts
0 likes
---