VALENTINE'S DAY QUOTES
quotations about Valentine's Day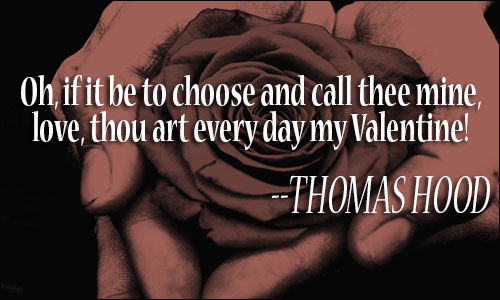 Valentine's Day is weird. A nude flying baby that shoots arrows isn't a holiday. It's a horror movie.
JIMMY KIMMEL, Jimmy Kimmel Live!, February 13, 2012
3 likes
---
The 99 Cent Only Store is calling itself your Valentine's Day headquarters. Guys, if that's your Valentine's Day headquarters, you can also call the garage your new home.
JAY LENO, The Tonight Show, February 13, 2012
2 likes
---
Here's my problem. On Valentine's Day the flowers are wilting and so am I.
DAVID LETTERMAN, The Late Show with David Letterman, February 13, 2012
2 likes
---
Don't feel bad if you have a crummy Valentine's Day. It (hopefully) won't be worse than getting killed, confused with other people, and kicked off the general liturgical calendar -- which is what actually happened to the real St. Valentine.
AINE CAIN, "The ancient story behind Valentine's Day is more brutal than romantic", Business Insider, February 12, 2017
2 likes
---
It's been projected that Americans will spend over $13 billion this Valentine's Day. And guys who forget Valentine's Day will spend over $100 billion.
CONAN O'BRIEN, Conan, February 13, 2012
1 likes
---
Some McDonald's restaurants are taking reservations on Valentine's Day. They are getting a lot of tables for one.
CONAN O'BRIEN, Conan, February 13, 2014
1 likes
---
This February 14th I declare V-Day; no, not V for Valentine ... V for Victory over a longstanding holiday that has twisted the hearts and minds of all who have been unfortunate enough to have been brainwashed by its evil pull since first placing store bought cards into tiny shoeboxes in elementary school. V for Victory over greedy swine toying with the emotional well being of the public at large to increase profit margins. But most importantly, V for Victory over longstanding feelings of inadequacy and unhappiness based on an arbitrary date on a calendar.
ALEXANDER KERN, "I Heart the Crotchety Bastard or How I Learned to Stop Worrying and Be Indifferent to Valentine's Day", February 14, 2006
1 likes
---
I got a Valentine's Day card from my girl. It said, "Take my heart! Take my arms! Take my lips!" Which is just like her. Keeping the best part for herself.
ROBERT ORBEN, 2000 New Laughs for Speakers
1 likes
---
Guess what? There's no law saying you must celebrate Valentine's Day. Not since the last time I checked, anyway. If you find Valentine's Day painful, corny, commercial, or plain old irritating, ignore it. Abracadabra, Valentine's Day is gone. Poof!
VIKKI ZIEGLER, "Valentine's Day Is Just Another Tricky Day When You're Divorced", Huffington Post, January 26, 2017
1 likes
---
Valentine's Day can prompt your favorite stalkers to reappear and step up their games, calling, texting or messaging you or sending lovely gifts that you then have to explain to your current significant other or your co-workers or your front desk person or the entire basketball stadium.
BRUCE Y. LEE, "If You're Not Happy During Valentine's Day, You're Not Alone", Forbes, February 14, 2017
1 likes
---
I like Valentine's Day. The trouble is the florists and the candy-makers and the card people are all advertising so much, you don't dare let the day go by without making an offering, whether you mean it or not. Money exceeds affection.
ANDY ROONEY, "Valentine's Day", Years of Minutes: The Best of Rooney from 60 Minutes
0 likes
---
On Valentine's Day, Americans spend $367 million on their pets. That seems like a waste. You don't need to wine and dine your dog. Either way, he's going to hump your leg.
JIMMY KIMMEL, Jimmy Kimmel Live!, February 14, 2012
0 likes
---
There is never a time or place for true love. It happens accidentally, in a heartbeat, in a single, flashing, throbbing moment.
SARAH DESSEN, The Truth About Forever
0 likes
---
It was bad enough not having a boyfriend for New Year's Eve. Now I had to cope with Valentine datelessness, feeling consummate social pressure from every retailer in America who stuck hearts and cupids on their windows by January second to rub it in.
JOAN BAUER, Thwonk
0 likes
---
All you need is love. But a little chocolate now and then doesn't hurt.
CHARLES M. SCHULZ, attributed, Quotes To Remember
0 likes
---
I will love you always. When this red hair is white, I will still love you. When the smooth softness of youth is replaced by the delicate softness of age, I will still want to touch your skin. When your face is full of the lines of every smile you have ever smiled, of every surprise I have seen flash through your eyes, when every tear you have ever cried has left its mark upon your face, I will treasure you all the more, because I was there to see it all. I will share your life with you ... and I will love you until the last breath leaves your body or mine.
LAURELL K. HAMILTON, A Lick of Frost
0 likes
---
Ultimately, I have been hearing more and more encouraging stories about couples that have come to their senses and decided to mutually abolish the tyranny of the Valentine's Day oppressors. These are people who grasp the concept that love is for everyday, and they won't be made fools of for the benefit of some dopey corporation's bottom line.
ALEXANDER KERN, "I Heart the Crotchety Bastard or How I Learned to Stop Worrying and Be Indifferent to Valentine's Day", February 14, 2006
0 likes
---
When it comes to Valentine's Day, guys are smart. They know what's going on and that's why, for them, it's a day of fear. Guys have somehow evolved to the point where they are now able to cut through the emotional bullshit of the day to the truth--that Valentine's Day is all about doing the "right thing" so no one yells at you. To keep out of trouble they buy the over-priced flowers, the heart-shaped goodies and the weekends away. Everyone's happy. And the day over, they can breathe a sigh of relief.
ALLISON RUSHBY, Hating Valentine's Day
0 likes
---
What's Valentine's Day about except the desperate search to find someone to spend Valentine's Day with? It just shows that love has become a marketing campaign, like everything else. You buy into it and lose everything.
DAVID LEVITHAN, Marly's Ghost
0 likes
---
Each time you love, love as deeply as if it were forever.
AUDRE LORDE, "For Each of You"
0 likes
---