VAMPIRE QUOTES
quotations about vampires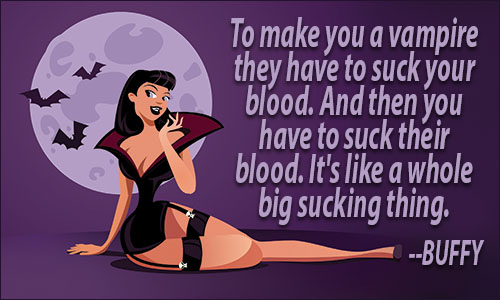 Everyone knows the phenomenon of trying to hold your breath underwater -- how at first it's alright and you can handle it, and then as it gets closer and closer to the time when you must breathe, how urgent the need becomes, the lust and the hunger to breathe. And then the panic sets in when you begin to think that you won't be able to breathe -- and finally, when you take in air and the anxiety subsides ... that's what it's like to be a vampire and need blood.
FRANCIS FORD COPPOLA, Bram Stoker's Dracula: The Film and the Legend
11 likes
---
When other little girls wanted to be ballet dancers I kind of wanted to be a vampire.
ANGELINA JOLIE, The Telegraph, May 29, 2011
9 likes
---
Vampires are real skinflints, I've noticed.
GARRETT ROWLAN, "Same Sex Vampire Wedding", Shadow Masters
8 likes
---
Listen to them. Children of the night. What music they make.
BELA LUGOSI, Dracula
8 likes
---
Bring a vampire around, people start discovering religion.
RICHARD LAYMON, The Stake
5 likes
---
We enjoy the night, the darkness, where we can do things that aren't acceptable in the light. Night is when we slake our thirst.
WILLIAM HILL, Vampire's Kiss
5 likes
---
Real vampires have formed online communities across the world as they share stories about awakenings, how to feed and they even seek out donors on forums and Facebook groups. Private groups include "Werewolves and vampires of Essex UK" and there is even a "vampire donors uk" -- for those wishing to offer their services.
NICOLE STINSO, "15,000 real vampires in the UK and they do more than just suck your blood", Daily Star, July 3, 2016
4 likes
---
To make you a vampire they have to suck your blood. And then you have to suck their blood. It's like a whole big sucking thing.
BUFFY, "Welcome to the Hellmouth", Buffy the Vampire Slayer
3 likes
---
I took mythology a lot more seriously since I'd become a vampire.
STEPHENIE MEYER, Breaking Dawn
3 likes
---
Great! The Bloodsucking Brady Bunch!
EDGAR FROG, The Lost Boys
3 likes
---
Even vampires cannot make food appear out of nothing. Vampires are thus constrained by ecological limits, aka physics and math. There is no garlic stronger than an ecological limit, and when those limits are exceeded, a stake will fall with deadly force.
KYLE G. CRIDER, "We Have Met the Vampires ... And They Are Us", Triple Pundit, March 10, 2016
3 likes
---
Drinking blood isn't what Hollywood makes it out to be, according to real-life vampires. First of all, there's no biting -- that's neither safe nor sanitary -- and with too many vital arteries, the neck isn't the favored spot. Transactions aren't carnages leaving the victim lifeless behind in a dark alley, and nor do vampires sleep in coffins or burn in daylight. They're generally cool with garlic. Most of them don't even have fangs.
KIM WALL, "Interview with a real-life vampire: why drinking blood isn't like in Hollywood", The Guardian, August 15, 2015
3 likes
---
Vampires pretending to be humans pretending to be vampires ... How avant-garde!
ANNE RICE, Interview with the Vampire
2 likes
---
I was shaking all over, and it wasn't from the vampire. Memories have teeth, too.
LAURELL K. HAMILTON, Bloody Bones
2 likes
---
Heh Heh Heh! Lisa! Vampires are make believe, just like elves and gremlins and eskimos!
HOMER, The Simpsons
2 likes
---
Vampires can live a very long time, theoretically forever, which means their idea of getting down to business can be damn leisurely.
LAURELL K. HAMILTON, Obsidian Butterfly
2 likes
---
The vampire is an outsider. He's the perfect metaphor for those things. He's someone who looks human and sounds human, but is not human, so he's always on the margins.
ANNE RICE, interview, The Daily Beast, November 23, 2011
2 likes
---
I always thought the appeal for vampires are the same as religion, the desire to avoid death and live forever.
BENTLEY LITTLE, "The Summoning: An Interview with Bentley Little", Giants of the Genre
2 likes
---
To the jaded eye, all vampires seem alike, but they are wonderful in their versatility. Some come to life in moonlight, others are killed by the sun, some pierce with their eyes, others with fangs, some are reactionary, others are rebels, but all are disturbingly close to the mortals they prey on. I can think of no other monsters who are so receptive. Vampires are neither inhuman nor non-human nor all-too-human, they are simply more alive than they should be.
NINA AUERBACH, Our Vampires, Ourselves
2 likes
---
That's often the way here with vampires. Quiet lives, active deaths.
MATTHEW SCHOFIELD, "From the crypt, the greatest Halloween story ever told. And it was true", McClatchy DC Bureau, October 31, 2016
2 likes
---