WORRY QUOTES
quotations about worry & worrying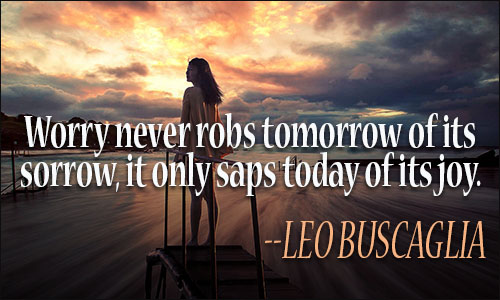 Who of you by worrying can add a single hour to his life?
BIBLE, Matthew 6:27
3 likes
---
Worry often gives a small thing a big shadow.
SWEDISH PROVERB
2 likes
---
Worry is rust upon the blade.
HENRY WARD BEECHER, Life Thoughts
2 likes
---
Worry does not empty tomorrow of its sorrow, it empties today of its strength.
CORRIE TEN BOOM, Clippings from My Notebook
1 likes
---
You worry too much. Eat some bacon.
JUSTIN HALPERN, Sh*t My Dad Says
1 likes
---
Worry is nothing but the bad habit of thinking about what you DON'T want to happen. It's a misuse of your most precious power -- the imagination.
DAN ZADRA, How to Beat the Jitters
1 likes
---
The bridges you cross before you come to them are over rivers that aren't there.
GENE BROWN, attributed, Worth Repeating
1 likes
---
It ain't no use putting up your umbrella till it rains!
ALICE CALDWELL RICE, attributed, Words from the Wise
1 likes
---
Worry was my mother's mechanic, her mechanism for engaging with the machinery of living. Worry was an anchor for her, a hook, something to clutch on to in the world. Worry was a box to live inside of, worry a mechanism for evading the present, for re-creating the past, for dealing with the future.
CHARLES YU, How to Live Safely in a Science Fiction Universe
1 likes
---
Worry is ... civilized people's form of voodoo. It's really a socially-approved form of magic.... In your mind, you create the illusion that worrying is what protects you.
MAXIE MAULTSBY, "Dr. Maxie Maultsby Says: Stop Worrying and Get On With Your Life", Ebony, February 1981
1 likes
---
If we didn't worry what would we do? How would you set the alarm for the morning? How would we finish the report we have to do? Worry is essential to our life. It just takes a life of its own and that's when people get into trouble.
REID WILSON, interview, KDKA Morning News, March 21, 2017
1 likes
---
Worry is half impatience and half ignorance.
AUSTIN O'MALLEY, Keystones of Thought
0 likes
---
A day of worry is more exhausting than a week of work.
JOHN LUBBOCK, The Use of Life
0 likes
---
Worry is different from fear. If fear is like a raging fever, worry is a low-grade temperature. It nags at us, simmers in our souls, hovers in the back of our minds like a faint memory. We may fear certain realities, like death; we worry about vague possibilities. Worry distracts us more than paralyzes us. It is like a leaky faucet we never get around to fixing.
GERALD LAWSON SITTSER, The Will of God As a Way of Life
0 likes
---
Worriers visualize the penalties of failure; winners visualize the rewards of success.
DAN ZADRA, How to Beat the Jitters
0 likes
---
The first essential component of worry is a future orientation. In other words, when you worry you invariably focus on something that might happen but hasn't happened yet. This notion might seem a bit controversial. In fact, you might even disagree with it. You might argue that you worry about things that are happening now, not in the future. A closer look, though, reveals the truth--worry is like a haunted crystal ball, tormenting you with a terrifying view of the future.
KEVIN L. GYOERKOE & PAMELA S. WIEGARTZ, 10 Simple Solutions to Worry
0 likes
---
The cause of worry is life: its cure is death.
CALEB WILLIAMS SALEEBY, Worry: The Disease of the Age
0 likes
---
Every moment of worry weakens the soul for its daily combat.
ANNA ROBERTSON BROWN, What is Worth While?
0 likes
---
Drag your thoughts away from your troubles -- by the ears, by the heels, or any other way, so you manage it.
MARK TWAIN, The American Claimant
0 likes
---
Worry is the admission of incompetence silently to oneself.
WILLIAM ESTABROOK CHANCELLOR, The Health of the Teacher
0 likes
---