ANGER QUOTES II
quotations about anger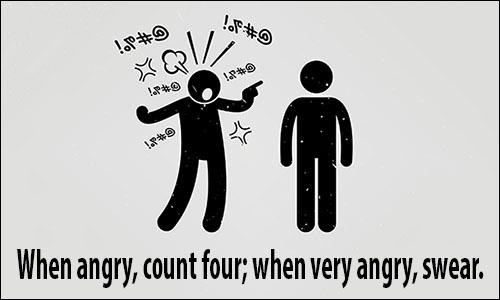 If we all got angry together something might be done.
J. R. R. TOLKIEN, The Return of the King
7 likes
---
Deceit and treachery skulk with hatred, but an honest spirit flieth with anger: the one lieth secret, as a serpent; the other chaseth, as a leopard.
MARTIN FARQUHAR TUPPER, "Of Hatred and Anger"
7 likes
---
I was angry with my friend: I told my wrath, my wrath did end. I was angry with my foe: I told it not, my wrath did grow.
WILLIAM BLAKE, Songs of Experience
6 likes
---
The sharpest sword is a word spoken in wrath.
GAUTAMA BUDDHA, The Gospel of Buddha
6 likes
---
To be angry is to revenge the fault of others upon ourselves.
ALEXANDER POPE, "Thoughts on Various Subjects"
6 likes
---
The problem with anger is that once it burns out, you're left with empty tanks.
CRAIG JOHNSON, The Cold Dish
6 likes
---
An angry man is always a stupid man.
CHINUA ACHEBE, Anthills of the Savannah
5 likes
---
The man that is dominated by Anger
Doth not know what is seemly and seeth not the Law;
That man whom Hate doth accompany,
Becometh like unto murky darkness.
GAUTAMA BUDDHA, Iti-Vuttaka
5 likes
---
Anger is one of the ways God protects us. Anger is, in fact, a God-given experience. We have been given a divine emotional signal in our heads that tells us when we are getting too near the edge. Like semaphore lights at a dangerous train crossing, anger tells us to pay careful attention.
PAUL MEIER & ROBERT L. WISE, Love Is a Choice
5 likes
---
The tigers of wrath are wiser than the horses of instruction.
WILLIAM BLAKE, The Marriage of Heaven and Hell
4 likes
---
Anger is a signal, and one worth listening to.
HARRIET LERNER, The Dance of Anger
4 likes
---
When you clench your fist, no one can put anything in your hand, nor can your hand pick up anything.
ALEX HALEY, attributed, Guys, Let's Keep It Real!
4 likes
---
A man who cannot get angry is like a stream that cannot overflow, that is always turbid. Sometimes indignation is as good as a thunderstorm in summer, clearing and cooling the air.
HENRY WARD BEECHER, Proverbs from Plymouth Pulpit
4 likes
---
Anger is energy, and energy must be transferred into activity. Anger comes from our passions, but it becomes sin when it is destructive, either to others or to ourselves. Pent-up anger will either explode uncontrollably or eat away at our hearts and souls until it takes up all of our interior space. Unless and until we deal with our anger, there is no room in us for anything else.
G. PORTER TAYLOR, From Anger to Zion
4 likes
---
There is no psychological reward for anger.... Anger is debilitating. In the physiological realm, it can produce hypertension, ulcers, rashes, heart palpitations, insomnia, fatigue and even heart disease. In the phsychological sense, anger breaks down love relationships, interferes with communication, leads to guilt and depression and generally just gets in your way. You may be skeptical, since you've always heard that expressing your anger is healthier than keeping it bottled up inside of you. Yes, the expression of anger is indeed a healthier alternative than suppressing it. But there is an even healthier alternative than suppressing it--not having the anger at all. In this case you won't be confronted with the dilemma of whether to let it out or keep it in.
WAYNE W. DYER, Your Erroneous Zones
4 likes
---
How much more grievous are the consequences of anger than the causes of it.
MARCUS AURELIUS, Meditations
4 likes
---
The intoxication of anger, like that of the grape, shows us to others, but hides us from ourselves.
CHARLES CALEB COLTON, Lacon
3 likes
---
Your anger is like a flower. In the beginning you may not understand the nature of your anger, or why it has come up. But if you know how to embrace it with the energy of mindfulness, it will begin to open. You may be sitting, following your breathing, or you may be practicing walking meditation to generate the energy of mindfulness and embrace your anger. After ten or twenty minutes your anger will have to open herself to you, and suddenly, you will see the true nature of your anger. It may have arisen just because of a wrong perception or the lack of skillfulness.
THICH NHAT HANH, Anger
3 likes
---
A good therapist once told me that you should get angry as many times a day as you visit the bathroom. I think what she meant was, first, that anger is natural. You may not like it, but it has its place and, depending on your temperament, it may be a constant in your life. She also meant that anger arrives on its own schedule and for its own purposes, and its schedule may be different from yours.
THOMAS MOORE, Dark Nights of the Soul
3 likes
---
Anger as soon as fed is dead,
'Tis starving makes it fat.
EMILY DICKINSON, Poems
2 likes
---