ANGER QUOTES III
quotations about anger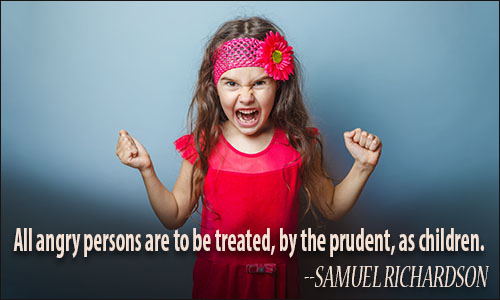 If a man be under the influence of anger his conduct will not be correct.
CONFUCIUS, The Wisdom of Confucius
2 likes
---
A man can't eat anger for breakfast and sleep with it at night and not suffer damage to his soul.
GARRISON KEILLOR, "Could I have been any more inept?", Salon, Oct. 26, 1999
2 likes
---
As anger is a passing storm, so it comes not gradually and with signs, but like a sudden sweep of wind or black squall.
JAMES VILA BLAKE, Essays
2 likes
---
Anger arises for specific and understandable reasons, just like any other emotions, such as happiness and sadness. Emotions are an essential part of being a human being, so if your goal is to completely eliminate anger from your life, forget it! First of all, this would be an impossible task. Second, you wouldn't want to do that, even if you could, any more than you would want to eliminate love, joy, or fear. All emotions have their proper place in a man's life; the experience of emotion is what makes life rich. And there are times when anger is an appropriate reaction to events and people.
THOMAS HARBIN, Beyond Anger
2 likes
---
When anger is not trampling roughshod through our nervous system, it is sitting sullenly in some unspecified internal organ. "She's got a lot of anger in her," people will say (it nestles, presumably, somewhere in the gut), or, "He's a deeply angry man" (as opposed, presumably, to a superficially angry one). If anger isn't released, it "turns inward" and metamorphoses into another creature altogether.
CAROL TAVRIS, Anger: The Misunderstood Emotion
2 likes
---
When you have been done an injustice, anger flares up before you have a chance to understand what has happened. It's as though someone else is looking out for you and letting you know immediately that you have been wronged. Anger gives you the impetus you need to change conditions that need to be changed. In this way, anger is like a dark guardian angel, a daimonic force--a daimon is an unnamed but felt invisible presence--that offers guidance and spiritual support.
THOMAS MOORE, Dark Nights of the Soul
2 likes
---
Anger is a violent emotion, vindictive, and as dangerous to he who is driven by it as to anyone on whom it is turned.
DEAN KOONTZ, Odd Apocalypse
2 likes
---
The fiercest anger of all, the most incurable,
Is that which rages in the place of dearest love.
EURIPIDES, Medea
2 likes
---
Anger is a form of madness. The words we apply to it show that human beings have long recognized its character. We still speak of angry people as mad. We sometimes say that they are "furious" or "in a fury." Some people are led by anger into the most violent excesses. Anger is one of the commonest causes of murder and it often leads to the infliction of blows, mental or physical, that might easily occasion murder. Oftener still it commits murder without loss of life, by doing to minds and souls mischief irreparable. In one respect anger is like drunkenness. It tends to destroy prudence. Where the intoxication of anger is complete, prudence disappears altogether. Then the way is clear for infamy. There are some people who, when they have once yielded to anger, lose all control. They snatch any weapon within reach. If they cannot strike with things they will strike with words, often far more terrible in their effect. They will make statements that can never be atoned for, that will sting and burn to the end of life.
JOHN DANIEL BARRY, "Anger"
2 likes
---
Angry people are not always wise.
JANE AUSTEN, Pride and Prejudice
2 likes
---
Bitterness is like cancer. It eats upon the host. But anger is like fire. It burns it all clean.
MAYA ANGELOU, attributed, Women Know Everything!
2 likes
---
Speak when you are angry and you will make the best speech you will ever regret.
AMBROSE BIERCE, The Devil's Dictionary
1 likes
---
Anger is a brief madness.
HORACE, Epistles
1 likes
---
If you do not wish to be prone to anger, do not feed the habit; give it nothing which may tend to its increase.
EPICTETUS
1 likes
---
Whenever anger comes up, take out a mirror and look at yourself. When you are angry, you are not very beautiful.
THICH NHAT HANH, Anger: Wisdom for Cooling the Flames
1 likes
---
We boil at different degrees.
RALPH WALDO EMERSON, Society and Solitude
1 likes
---
Never get angry. Never make a threat. Reason with people.
MARIO PUZO, The Godfather
1 likes
---
Anger supplies arms.
VIRGIL, Aeneid
1 likes
---
As anger is a passion, it is to be ruled; as it is a weak passion, he is weak who rules it not.
JAMES VILA BLAKE, Essays
1 likes
---
Anger is poison. You must purge it from your mind or else it will corrupt your better nature.
CHRISTOPHER PAOLINI, Brisingr
1 likes
---