ANGER QUOTES IV
quotations about anger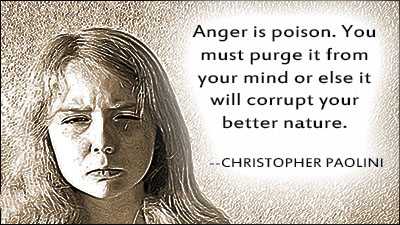 When anger walks it is strongest; let it rest and it gets weak.
EDWARD COUNSEL, Maxims
1 likes
---
Never forget what a man has said to you when he was angry. If he has charged you with anything, you had better look it up. Anger is a bow that will shoot sometimes where another feeling will not.
HENRY WARD BEECHER, Life Thoughts
1 likes
---
Every present anger derives from past weakness.
GLEN DUNCAN, The Last Werewolf
1 likes
---
When we are angry, our anger is our very self. To suppress or chase away our anger is to suppress or chase away ourselves. When anger is born, we can be aware that anger is an energy in us, and we can change that energy into another kind of energy. If we want to transform it, first we have to know how to accept it.
THICH NHAT HANH, Savor
1 likes
---
Anger is like a flame blazing up and consuming our self-control, making us think, say, and do things that we will probably regret later.
THICH NHAT HANH, Savor
1 likes
---
Poetry = Anger x Imagination.
SHERMAN ALEXIE, One Stick Song
1 likes
---
Anger is a noble infirmity, the generous failing of the just, the one degree that riseth above zeal, asserting the prerogative of virtue.
MARTIN FARQUHAR TUPPER, "Of Hatred and Anger"
1 likes
---
Anger is stupid, and stupidity will kill you more surely than your opponent's blade.
PATRICIA BRIGGS, Dragon Bones
1 likes
---
Anger can serve a useful purpose if it is justified and directed appropriately. But when it's only a substitute for self-loathing and a justification for cruelty to others, the trigger in your brain can become horribly destructive and addicted to that emotion. It's like a tornado that blows away all of your pleasure and replaces it with emotional poison.
FRANK LAWLIS, The Stress Answer: Train Your Brain to Conquer Depression and Anxiety in 45 Days
1 likes
---
The common theme in anger is that you don't know how to solve a problem.
AARON KARMIN, "Who Taught You to Manage Anger?", PsychCentral, March 3, 2016
1 likes
---
All too often, a feeling of anger manifests and is managed defensively, usually with insulting or insensitive behavior. For example, when another car suddenly cuts in front of your car on the road, adrenaline pumps into your bloodstream. Your heart rate jumps. Your blood pressure surges. But then, thoughts of indignation and animosity, toward the other driver overrun your mind. You honk your horn. You give a dirty look. You scream and curse. But none of this really solves the problem.
AARON KARMIN, "Who Taught You to Manage Anger?", PsychCentral, March 3, 2016
1 likes
---
Anger makes dull men witty, but it keeps them poor.
ELIZABETH I
0 likes
---
Rash, angry words, and spoken out of season,
When passion has usurp'd the throne of reason,
Have ruin'd many. Passion is unjust,
And for an idle, transitory gust
Of gratified revenge, dooms us to pay
With long repentance at a later day.
THEOGNIS OF MEGARA, Fragment XXXIX
0 likes
---
Be ye angry and sin not: let not the sun go down upon your wrath.
EPHESIANS 4:26
0 likes
---
The wrong that rouses our angry passions finds only a medium in us; it passes through us like a vibration, and we inflict what we have suffered.
GEORGE ELIOT, Janet's Repentance
0 likes
---
Not to be provok'd is best: But if mov'd, never correct till the fume is spent; for every stroke our fury strikes, is sure to hit our selves at last.
WILLIAM PENN, Some Fruits of Solitude
0 likes
---
Anger is not a sinful emotion. But how we act when we are angry may well be a sin.
DORIS MORELAND JONES, God's Gift of Anger
0 likes
---
You can learn to handle your anger well. First, recognize that anger is a normal part of life. Everybody feels angry from time to time. Like all feelings, anger is neither good nor bad, it just is.
RONALD & PATRICIA POTTER-EFRON, Letting Go of Anger
0 likes
---
Anger, in general, is healthy. Just like sadness or happiness, it's a normal emotion. Where people get into trouble is when anger becomes a behavior that is physically, verbally or emotionally inappropriate.
CAROLE D. STOVALL, Jet Magazine, May 1, 2000
0 likes
---
Anger is our reaction to the violation of our boundaries.
KATHLEEN DOWLING SINGH, The Grace in Dying
0 likes
---