ART QUOTES X
quotations about art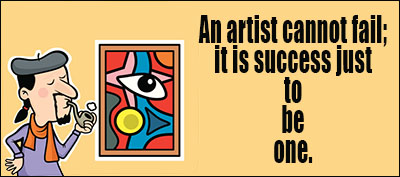 In art there are two principal schools between which each aspirant has to choose--one distinguished by its close adherence to nature, and the other by its strenuous efforts to get above it.
CHRISTIAN NESTELL BOVEE, Intuitions and Summaries of Thought
0 likes
---
Art is but a mirror, which gives back what is cast on its surface faithfully only while unsullied.
ELIZA COOK, Diamond Dust
0 likes
---
Modernity is the transitory, fugitive, contingent, is but one half of art, of which the other half is the eternal and immutable.
CHARLES BAUDELAIRE, "La Modernite", La Peintre de la Vie Moderne
0 likes
---
Art is Individualism, and Individualism is a disturbing and disintegrating force. Therein lies its immense value. For what it seeks to disturb is monotony of type, slavery of custom, tyranny of habit, and the reduction of man to the level of a machine.
OSCAR WILDE, The Soul of Man Under Socialism
0 likes
---
Art is man added to Nature.
FRANCIS BACON, Descriptio Globi Intellectus
0 likes
---
Beauty today can have no other measure except the depth to which a work resolves contradictions. A work must cut through the contradictions and overcome them, not by covering them up, but by pursuing them.
THEODOR W. ADORNO, attributed, Architecture and Modernity: A Critique
0 likes
---
The forms of art reflect the history of man more truthfully than do documents themselves.
THEODOR W. ADORNO, Philosophy of Modern Music
0 likes
---
Were I called on to define, very briefly, the term "Art," I should call it "the reproduction of what the Senses perceive in Nature through the veil of the soul." The mere imitation, however accurate, of what is in Nature, entitles no man to the sacred name of "Artist".
EDGAR ALLAN POE, "Marginalia"
0 likes
---
Art as Magic is a forbidden and illegitimate pleasure, and ... what we are ashamed of wanting most are our wishful apprehensions. The big secret about Art is that no one wants it to be true. Apart, that is, from the artist.
ADAM PHILLIPS, On Balance
0 likes
---
The arts stop society going rotten and mad.
VANESSA REDGRAVE, interview, FT Magazine, Apr. 26, 2013
0 likes
---
Art is not imitation but illusion.
CHARLES READE, Christie Johnstone
0 likes
---
In the haunted house of life, art is the only stair that doesn't creak.
TOM ROBBINS, Skinny Legs and All
0 likes
---
Art respects the masses, by standing up to them for what they could be, rather than conforming to them in their degraded state.
THEODOR W. ADORNO, Aesthetic Theory
0 likes
---
Everyone has doors in the living room of their lives that they assume are locked. Doors that lead to artistic expression. People say "I have no talent -- I can't dance or sing or paint or write poetry or play an instrument." More often than not the doors are not locked, just closed. One may turn the handle, open the door and pass through into a larger life space.
ROBERT FULGHUM, self interview, official website
0 likes
---
There is the falsely mystical view of art that assumes a kind of supernatural inspiration, a possession by universal forces unrelated to questions of power and privilege or the artist's relation to bread and blood. In this view, the channel of art can only become clogged and misdirected by the artist's concern with merely temporary and local disturbances. The song is higher than the struggle.
ADRIENNE RICH, Blood, Bread and Poetry
0 likes
---
I hate studio. For me, studio is a trap to overproduce and repeat yourself. It is a habit that leads to art pollution.
MARINA ABRAMOVIC, The Economist, Sep. 15, 2010
0 likes
---
The work of art still has something in common with enchantment: it posits its own, self-enclosed area, which is withdrawn from the context of profane existence, and in which special laws apply.
THEODOR W. ADORNO, Dialectic of Enlightenment
0 likes
---
The function of art is to bring people into greater touch with reality, and yet our movie houses and family rooms are jammed with people after as much reality-removal as they can get.
EDWARD ALBEE, Stretching My Mind
0 likes
---
I start a picture and I finish it. I don't think about art while I work. I try to think about life.
JEAN-MICHEL BASQUIAT, "Riding with Death: The Final Years", Jean-Michel Basquiat: 1960-1988
0 likes
---
The good thing about being an artist, is it's a legitimate way of looking at things cross-eyed.
JOHN CHAMBERLAIN, "Unshackled, Unconventional Sculptor", New York Times, Jun. 13, 1993
0 likes
---