ART QUOTES X
quotations about art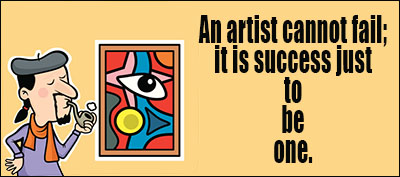 In every work of art, the artist himself is present.
CHRISTIAN MORGENSTERN, Levels
0 likes
---
What is Art, monsieur, but Nature concentrated?
HONORE DE BALZAC, Lost Illusions
0 likes
---
That beauty which is meant by art is no mere accident of human life which people can take or leave, but a positive necessity of life if we are to live as nature meant us to, that is to say unless we are content to be less than men.
OSCAR WILDE, "Art and the Handicraftsman"
0 likes
---
Excellence in art is largely the result of attention to minutiae, and--prayer.
CHRISTIAN NESTELL BOVEE, Intuitions and Summaries of Thought
0 likes
---
Art is the Godhead as revealed in the works of man.
ROBERT M. PIRSIG, Zen and the Art of Motorcycle Maintenance
0 likes
---
How do you turn catastrophe into art? Nowadays the process is automatic. A nuclear plant explodes? We'll have a play on the London stage within a year. A President is assissinated? You can have the book or the film or the filmed book or booked film. War? Send in the novelists. A series of gruesome murders? Listen for the tramp of the poets. We have to understand it, of course, this catastrophe; to understand it, we have to imagine it, so we need the imaginative arts. But we also need to justify it and forgive it, this catastrophe, however minimally. Why did it happen, this mad act of Nature, this crazed human moment? Well, at least it produced art. Perhaps, in the end, that's what catastrophe is for.
JULIAN BARNES, A History of the World in 10 1/2 Chapters
0 likes
---
In art there are two principal schools between which each aspirant has to choose--one distinguished by its close adherence to nature, and the other by its strenuous efforts to get above it.
CHRISTIAN NESTELL BOVEE, Intuitions and Summaries of Thought
0 likes
---
Art is but a mirror, which gives back what is cast on its surface faithfully only while unsullied.
ELIZA COOK, Diamond Dust
0 likes
---
Modernity is the transitory, fugitive, contingent, is but one half of art, of which the other half is the eternal and immutable.
CHARLES BAUDELAIRE, "La Modernite", La Peintre de la Vie Moderne
0 likes
---
Art is Individualism, and Individualism is a disturbing and disintegrating force. Therein lies its immense value. For what it seeks to disturb is monotony of type, slavery of custom, tyranny of habit, and the reduction of man to the level of a machine.
OSCAR WILDE, The Soul of Man Under Socialism
0 likes
---
Art is man added to Nature.
FRANCIS BACON, Descriptio Globi Intellectus
0 likes
---
Beauty today can have no other measure except the depth to which a work resolves contradictions. A work must cut through the contradictions and overcome them, not by covering them up, but by pursuing them.
THEODOR W. ADORNO, attributed, Architecture and Modernity: A Critique
0 likes
---
The forms of art reflect the history of man more truthfully than do documents themselves.
THEODOR W. ADORNO, Philosophy of Modern Music
0 likes
---
Were I called on to define, very briefly, the term "Art," I should call it "the reproduction of what the Senses perceive in Nature through the veil of the soul." The mere imitation, however accurate, of what is in Nature, entitles no man to the sacred name of "Artist".
EDGAR ALLAN POE, "Marginalia"
0 likes
---
Art as Magic is a forbidden and illegitimate pleasure, and ... what we are ashamed of wanting most are our wishful apprehensions. The big secret about Art is that no one wants it to be true. Apart, that is, from the artist.
ADAM PHILLIPS, On Balance
0 likes
---
The arts stop society going rotten and mad.
VANESSA REDGRAVE, interview, FT Magazine, Apr. 26, 2013
0 likes
---
Art is not imitation but illusion.
CHARLES READE, Christie Johnstone
0 likes
---
In the haunted house of life, art is the only stair that doesn't creak.
TOM ROBBINS, Skinny Legs and All
0 likes
---
Art respects the masses, by standing up to them for what they could be, rather than conforming to them in their degraded state.
THEODOR W. ADORNO, Aesthetic Theory
0 likes
---
Everyone has doors in the living room of their lives that they assume are locked. Doors that lead to artistic expression. People say "I have no talent -- I can't dance or sing or paint or write poetry or play an instrument." More often than not the doors are not locked, just closed. One may turn the handle, open the door and pass through into a larger life space.
ROBERT FULGHUM, self interview, official website
0 likes
---