ART QUOTES VII
quotations about art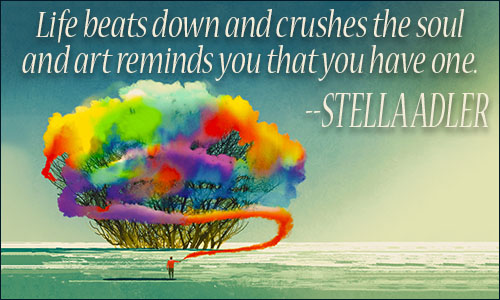 That art is best which suggests most.
AUSTIN O'MALLEY, Keystones of Thought
0 likes
---
For the enjoyment of the artist the mask must be to some extent moulded on the face. What he makes outside him must correspond to something inside him; he can only make his effects out of some of the materials of his soul.
G. K. CHESTERTON, The Dagger with Wings
0 likes
---
If the world were clear, art would not exist.
ALBERT CAMUS, The Myth of Sisyphus
0 likes
---
Art lifts man from his personal life into the universal life.
LEO TOLSTOY, What Is Art?
0 likes
---
The way to art was not to think too clearly, not to plan things out, but to follow where your heart and emotions led.
PAUL PARK, A Princess of Roumania
0 likes
---
Doing a life study while drunk and in the process of being seduced is never a formula for quality art.
DAN SIMMONS, The Fall of Hyperion
0 likes
---
Destroy the thing, do it over several times. In each destroying of a beautiful discovery, the artist does not really suppress it, but rather transforms it, condenses it, makes it more substantial. What comes out in the end is the result of discarded finds.
PETER ABRAHAMS, End of Story
0 likes
---
You're an artist ... that means you see the world in ways that other people don't. It's your gift, to see the beauty and the horror in ordinary things. It doesn't make you crazy--just different. There's nothing wrong with being different.
CASSANDRA CLARE, City of Bones
0 likes
---
Real art, like the wife of an affectionate husband, needs no ornaments. But counterfeit art, like a prostitute, must always be decked out. The cause of production of real art is the artist's inner need to express a feeling that has accumulated, just as for a mother the cause of sexual conception is love. The cause of counterfeit art, as of prostitution, is gain. The consequence of true art is the introduction of a new feeling into the intercourse of life, as the consequence of a wife's love is the birth of a new man into life. The consequences of counterfeit art are the perversion of man, pleasure which never satisfies, and the weakening of man's spiritual strength.
LEO TOLSTOY, What Is Art?
0 likes
---
Art is a means to enter, to play with, to dance with, to wrestle with anything that intrigues, delights, disturbs, or terrifies us.
PAT B. ALLEN, introduction, Art Is a Spiritual Path
0 likes
---
Perhaps art is a quest for the perfect, or even the imperfect. Reality always falls short on both sides.
ANNA DEAVERE SMITH, Letters to a Young Artist
0 likes
---
Nothing helps an artist's career more than a little death and obscurity.
DAN SIMMONS, The Fall of Hyperion
0 likes
---
In placid hours well-pleased we dream
Of many a brave unbodied scheme.
But form to lend, pulsed life create,
What unlike things must meet and mate:
A flame to melt--a wind to freeze;
Sad patience--joyous energies;
Humility--yet pride and scorn;
Instinct and study; love and hate;
Audacity--reverence. These must mate,
And fuse with Jacob's mystic heart,
To wrestle with the angel--Art.
HERMAN MELVILLE, "Art"
0 likes
---
They say that art should stand the test of time. Life lasts a limited amount of time. Mountains and trees and earth will outlive human beings, but we don't know if they will be here always. Art does outlast the life span of its maker. Art should communicate to an increasing circle of strangers--people who do now know the artist, but come to know the work, and through the work, come to know something about the humanity of the artist that rings with their own humanity.
ANNA DEAVERE SMITH, Letters to a Young Artist
0 likes
---
Art matures. It is the formal elaboration of activity, complete in its own pattern. It is a cosmos of its own.
BAKER BROWNELL, Art Is Action
0 likes
---
Art is an infinitely precious good, a draught both refreshing and cheering which restores the stomach and the mind to the natural equilibrium of the ideal.
CHARLES BAUDELAIRE, preface, Salon of 1846
0 likes
---
Art arises in those strange complexities of action that are called human beings. It is a kind of human behavior. As such it is not magic, except as human beings are magical. Nor is it concerned in absolutes, eternities, "forms," beyond those that may reside in the context of the human being and be subject to his vicissitudes. Art is not an inner state of consciousness, whatever that may mean. Neither is it essentially a supreme form of communication. Art is human behavior, and its values are contained in human behavior.
BAKER BROWNELL, Art Is Action
0 likes
---
The work of art is a revelation of the innate goodness of matter. Matter narcissistically mirrors itself in art, with the artist's hidden hand that holds the mirror up, the impersonal mechanism by means of which matter makes its perfection manifest.
DONALD BURTON KUSPIT, Redeeming Art: Critical Reveries
0 likes
---
The scope of art is practically boundless; it does not begin and end with the painting of pictures and the modeling of statues; where there is room for workmanship there is room for it.
LEWIS FOREMAN DAY, Everyday Art
0 likes
---
Art is my spiritual path.... Art is my prayer, my ritual, my remembrance of the Divine. Art is the way I knit together the beliefs and practices that guide my life.
PAT B. ALLEN, introduction, Art Is a Spiritual Path
0 likes
---