ART QUOTES
quotations about art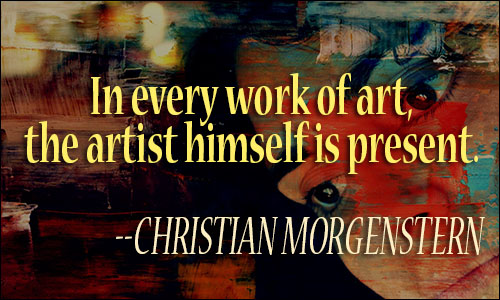 Life beats down and crushes the soul and art reminds you that you have one.
STELLA ADLER, attributed, The Sound of Applause
34 likes
---
We have art in order not to die of the truth.
FRIEDRICH NIETZSCHE, The Will to Power
20 likes
---
Art is a collaboration between God and the artist, and the less the artist does the better.
ANDRE GIDE, Autumn Leaves
16 likes
---
The aim of every artist is to arrest motion, which is life, by artificial means and hold it fixed so that a hundred years later, when a stranger looks at it, it moves again.
WILLIAM FAULKNER, The Paris Review, spring 1956
14 likes
---
If art, all art, is concerned with truth, then a society in denial will not find much use for it.
JEANETTE WINTERSON, Art Objects
14 likes
---
When nations grow old, the Arts grow cold,
And Commerce settles on every tree.
WILLIAM BLAKE, On Art and Artists
13 likes
---
The arts do live continuously, and they live literally by faith; their names and their shapes and their uses and their basic meanings survive unchanged in all that matters through times of interruption, diminishment, neglect; they outlive governments and creeds and the societies, even the very civilization that produced them. They cannot be destroyed altogether because they represent the substance of faith and the only reality. They are what we find again when the ruins are cleared away.
KATHERINE ANNE PORTER, introduction, Flowering Judas
12 likes
---
Art is a microscope which the artist fixes on the secrets of his soul, and shows to people these secrets which are common to all.
LEO TOLSTOY, diary
11 likes
---
If art reflects life, it does so with special mirrors.
BERTOLT BRECHT, A Short Organum for the Theatre
10 likes
---
Art is man's constant effort to create for himself a different order of reality from that which is given to him.
CHINUA ACHEBE, Hopes and Impediments
7 likes
---
In art as in lovemaking, heartfelt ineptitude has its appeal and so does heartless skill, but what you want is passionate virtuosity.
JOHN BARTH, attributed, Passionate Virtuosity: The Fiction of John Barth
7 likes
---
The difference between Art and Life is that Art is more bearable.
CHARLES BUKOWSKI, Notes of a Dirty Old Man
7 likes
---
Why is art beautiful? Because it's useless. Why is life ugly? Because it's all ends and purposes and intentions.
FERNANDO PESSOA, The Book of Disquiet
7 likes
---
It is not the office of art to spotlight alternatives, but to resist by its form alone the course of the world, which permanently puts a pistol to men's heads.
THEODOR W. ADORNO, "Engagement"
7 likes
---
Art is not the application of a canon of beauty but what the instinct and the brain can conceive beyond any canon. When we love a woman we don't start measuring her limbs.
PABLO PICASSO, Picasso on Art: A Selection of Views
7 likes
---
There is no logical reason why the camel of great art should pass through the needle of mob intelligence.
REBECCA WEST, The Strange Necessity
6 likes
---
The artist, like the God of creation, remains within or behind or beyond or above his handiwork, invisible, refined out of existence, indifferent, paring his fingernails.
JAMES JOYCE, A Portrait of the Artist as a Young Man
6 likes
---
It is no wonder if Art frequently prefers Illusion to Truth: for Illusion is her servant, but Truth her mistress.
RICHARD GARNETT, De Flagello Myrtes
6 likes
---
Art should have political, spiritual, and surprising elements. It should try to find new language of communicating in order to give awareness to the public. Then every society can use the layer it needs at the moment. If one is interested in the political, they can take that. If the next one needs spiritual, it can be found in the same work. So if you just did one level, for example only political, it's like an old newspaper, you read it today and tomorrow it's old news. The art dies. Art with this kind of complexity has many lives where many societies can take something different at different times. It can live for centuries, otherwise who cares?
MARINA ABRAMOVIC, "Marina Abramovic Makes Sundance Shut Up", Interview Magazine
6 likes
---
Art is a little subversive, very subversive; it gets underneath the surface and reveals what is there; it is a Geiger counter for truth.
PAT B. ALLEN, Art Is a Spiritual Path
5 likes
---