ART QUOTES VIII
quotations about art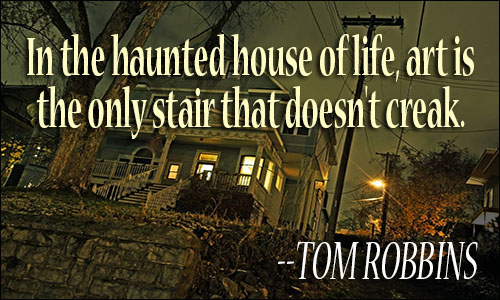 Art is one of man's few serious activities.
AUSTIN O'MALLEY, Keystones of Thought
0 likes
---
When Nature begins to reveal her open secret to a man, he feels an irresistible longing for her worthiest interpreter, Art.
JOHANN WOLFGANG VON GOETHE, The Maxims and Reflections of Goethe
0 likes
---
Truth as philosophy is a gas; as art, it is visible steam.
AUSTIN O'MALLEY, Keystones of Thought
0 likes
---
An artist in my view is always afraid of extremists; he is always afraid of those who claim to have found the ultimate solution to any question.
CHINUA ACHEBE, The Massachusetts Review, Summer, 1987
0 likes
---
The ordinary bloke will not voluntarily pay for "art" that leaves him unmoved--if he does pay for it, the money has to be conned out of him, by taxes and such.
ROBERT A. HEINLEIN, Stranger in a Strange Land
0 likes
---
The swing of art is circular, from form to formalism, from formalism to formlessness, from formlessness to form again.
AUSTIN O'MALLEY, Keystones of Thought
0 likes
---
The perfection of art is to conceal the sources.
AUSTIN O'MALLEY, Keystones of Thought
0 likes
---
Art is the child of Nature; yes,
Her darling child, in whom we trace
The features of the mother's face,
Her aspect and her attitude,
All her majestic loveliness
Chastened and softened and subdued
Into a more attractive grace,
And with a human sense imbued.
He is the greatest artist, then,
Whether of pencil or of pen,
Who follows Nature.
HENRY WADSWORTH LONGFELLOW, Keramos
0 likes
---
The only original part in a work of art is the infusion of the artist's own character, if he has one.
AUSTIN O'MALLEY, Keystones of Thought
0 likes
---
Art has to reveal to us ideas, formless spiritual essences. The supreme question about a work of art is out of how deep a life does it spring. The painting of Gustave Moreau is the painting of ideas. The deepest poetry of Shelley, the words of Hamlet bring our mind into contact with the eternal wisdom, Plato's world of ideas. All the rest is the speculation of schoolboys for schoolboys.
JAMES JOYCE, Ulysses
0 likes
---
I say that the true artist-seer, the heavenly fool who can and does produce beauty, is mainly dazzled to death by his own scruples, the blinding shapes and colors of his own sacred human conscience.
J. D. SALINGER, "Seymour: An Introduction"
0 likes
---
It's frightening for one artist to see another one, any other one turn away from art.
SAMUEL R. DELANY, Dhalgren
0 likes
---
Art begins with resistance -- at the point where resistance is overcome.
ANDRE GIDE, Autumn Leaves
0 likes
---
An artist's only concern is to shoot for some kind of perfection, and on his own terms, not anyone else's.
J. D. SALINGER, Zooey
0 likes
---
You need the art in order to love the life.
NICHOLSON BAKER, The Anthologist
0 likes
---
In the arts, people are always waiting for someone or some movement to "fulfill her/its/his promise." Then, half-a-dozen or a dozen years on, others begin to realize that, really, something extraordinary was actually happening.
SAMUEL R. DELANY, interview, SF Site, Apr. 2001
0 likes
---
The good qualities in our soul are most successfully and forcefully awakened by the power of art. Just as science is the intellect of the world, art is its soul.
MAXIM GORKY, Untimely Thoughts
0 likes
---
Art isn't about following the rules. It's about breaking them.
DAVID SEDARIS, When You Are Engulfed in Flames
0 likes
---
An artist is a creature driven by demons. He don't know why they choose him and he's usually too busy to wonder why. He is completely amoral in that he will rob, borrow, beg, or steal from anybody and everybody to get the work done.
WILLIAM FAULKNER, The Paris Review, spring 1956
0 likes
---
The artist and the multitude are natural enemies. They always will be, both ways. The artist is an enemy of the multitude, and the multitude is the enemy of the artist. And when the disguise comes off and they're both standing facing one another, they're just there at odds end.
ROBERT ALTMAN, interview with F. Anthony Macklin, 1976
0 likes
---