ART QUOTES VI
quotations about art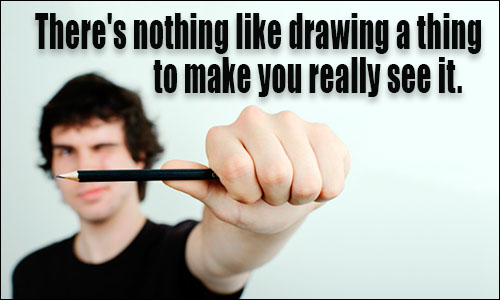 The art of art, the glory of expression, and the sunshine of the light of letters, is simplicity.
WALT WHITMAN, preface, Leaves of Grass
0 likes
---
To know how to produce a work of art is to know how to discard the extraneous.
LAURA ESQUIVEL, The Law of Love
0 likes
---
For me, Art is the restoration of order. It may discuss all sort of terrible things, but there must be satisfaction at the end. A little bit of hunger, but also satisfaction.
TONI MORRISON, interview with Don Swaim, 1987
0 likes
---
There are only two styles of portrait painting: the serious and the smirk.
CHARLES DICKENS, Nicholas Nickleby
0 likes
---
Skill without imagination is craftsmanship and gives us many useful objects such as wickerwork picnic baskets. Imagination without skill gives us modern art.
TOM STOPPARD, "Artist Descending a Staircase"
0 likes
---
Art is not a handicraft, it is the transmission of feeling the artist has experienced.
LEO TOLSTOY, What is Art?
0 likes
---
The true artist will let his wife starve, his children go barefoot, his mother drudge for a living at seventy, sooner than work at anything but his art.
GEORGE BERNARD SHAW, Man and Superman
0 likes
---
Realism and art cannot live together.
JENNETTE LEE, The Ibsen Secret
0 likes
---
The history of art is the history of revivals.
SAMUEL BUTLER, Note Books
0 likes
---
Perhaps there is no other way of reaching some understanding of being than through art? Writers themselves don't analyze what they do; to analyze would be to look down while crossing a canyon on a tightrope. To say this is not to mystify the process of writing but to make an image out of the intense inner concentration the writer must have to cross the chasms of the aleatory and make them the word's own, as an explorer plants a flag.
NADINE GORDIMER, Nobel Lecture, Dec. 7, 1991
0 likes
---
Art cannot be subordinate to its subject, otherwise it is not art but biography.
TOM STOPPARD, The Invention of Love
0 likes
---
It's not a bad thing for a man to have to live his life--and we nearly all manage to dodge it. Our first round with the Sphinx may strike something out of us--a book or a picture or a symphony; and we're amazed at our feat, and go on letting that first work breed others, as some animal forms reproduce each other without renewed fertilization. So there we are, committed to our first guess at the riddle; and our works look as like as successive impressions of the same plate, each with the lines a little fainter; whereas they ought to be--if we touch earth between times--as different from each other as those other creatures--jellyfish, aren't they, of a kind?--where successive generations produce new forms, and it takes a zoologist to see the hidden likeness.
EDITH WHARTON, "The Legend", Tales of Men and Ghosts
0 likes
---
Art is a jealous mistress.
RALPH WALDO EMERSON, Conduct of Life
0 likes
---
It is the function of art to renew our perception. What we are familiar with we cease to see. The writer shakes up the familiar scene, and as if by magic, we see a new meaning in it.
ANAIS NIN, attributed, The Wordsworth Dictionary of Quotations
0 likes
---
Art at its greatest is fantastically deceitful and complex.
VLADIMIR NABOKOV, Strong Opinions
0 likes
---
True art, like nature, ever bears
Suggestions of some higher thing;
As more than form or tint of bird
We prize the song he stops to sing.
EDITH WILLIS LINN FORBES, "A Landscape in Oils"
0 likes
---
There is no surer way of evading the world than by Art; and no surer way of uniting with it than by Art.
JOHANN WOLFGANG VON GOETHE, The Maxims and Reflections of Goethe
0 likes
---
The artist has some internal experience that produces a poem, a painting, a piece of music. Spectators submit themselves to the work, which generates an inner experience for them. But historically it's a very new, not to mention vulgar, idea that the spectator's experience should be identical to, or even have anything to do with, the artist's. That idea comes from an over-industrialized society which has learned to distrust magic.
SAMUEL R. DELANY, Dhalgren
0 likes
---
Art is the Mirror of our betrayed ideals.
DORIS LESSING, The Golden Notebook
0 likes
---
Art is the one form of human energy in the whole world, which really works for union, and destroys the barriers between man and man. It is the continual, unconscious replacement, however fleeting, of oneself by another; the real cement of human life; the everlasting refreshment and renewal. For, what is grievous, dompting, grim, about our lives is that we are shut up within ourselves, with an itch to get outside ourselves. And to be stolen away from ourselves by Art is a momentary relaxation from that itching, a minute's profound, and as it were secret, enfranchisement.
JOHN GALSWORTHY, Vague Thoughts on Art
0 likes
---