ART QUOTES IX
quotations about art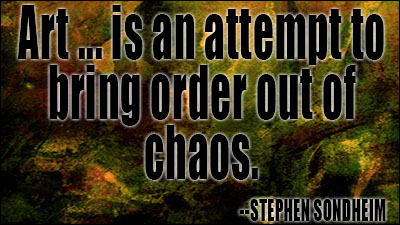 You need the art in order to love the life.
NICHOLSON BAKER, The Anthologist
0 likes
---
In the arts, people are always waiting for someone or some movement to "fulfill her/its/his promise." Then, half-a-dozen or a dozen years on, others begin to realize that, really, something extraordinary was actually happening.
SAMUEL R. DELANY, interview, SF Site, Apr. 2001
0 likes
---
The good qualities in our soul are most successfully and forcefully awakened by the power of art. Just as science is the intellect of the world, art is its soul.
MAXIM GORKY, Untimely Thoughts
0 likes
---
Art isn't about following the rules. It's about breaking them.
DAVID SEDARIS, When You Are Engulfed in Flames
0 likes
---
An artist is a creature driven by demons. He don't know why they choose him and he's usually too busy to wonder why. He is completely amoral in that he will rob, borrow, beg, or steal from anybody and everybody to get the work done.
WILLIAM FAULKNER, The Paris Review, spring 1956
0 likes
---
The artist and the multitude are natural enemies. They always will be, both ways. The artist is an enemy of the multitude, and the multitude is the enemy of the artist. And when the disguise comes off and they're both standing facing one another, they're just there at odds end.
ROBERT ALTMAN, interview with F. Anthony Macklin, 1976
0 likes
---
Art is always aimed (like a rifle, if you wish) at the middle class. The working class has its own culture and will have no truck with fanciness of any kind. The upper class owns the world and thus needs know no more about the world than is necessary for its orderly exploitation. The notion that art cuts across class boundaries to stir the hearts of hoe hand and Morgan alike is, at best, a fiction useful to the artist, his Hail Mary. It is the poor puzzled bourgeoisie that is sufficiently uncertain, sufficiently hopeful, to pay attention to art. It follows (as the night the day) that the bourgeoisie should get it in the neck.
DONALD BARTHELME, "On the Level of Desire"
0 likes
---
That's the difference between the serious artist and the craftsman--the craftsman can take material and because of his abilities do a professional job of it. The serious artist, like Proust, is like an object caught by a wave and swept to shore. He's obsessed by his material; it's like a venom working in his blood and the art is the antidote.
TRUMAN CAPOTE, Truman Capote: Conversations
0 likes
---
Ah, well, during the Middle Ages, religion was often able to redeem art. Today, however, art is about the only thing that can redeem religion, and the clerics will never forgive us for that.
SAMUEL R. DELANY, Dhalgren
0 likes
---
The artist who is after success lets himself be influenced by the public. Generally such an artist contributes nothing new, for the public acclaims only what it already knows, what it recognizes.
ANDRE GIDE, Pretexts: Reflections on Literature and Morality
0 likes
---
Works of art feel towards human beings exactly as we do towards ghosts. The transparency of spectres, the diffuseness in space which lets them drift through doors and walls, and their smell of death, disgust us not more than we disgust works of art by our meaninglessness, our diffuseness in time which lets us drift through three score years and ten without a quarter as much significance as a picture establishes instantaneously.
REBECCA WEST, Harriet Hume
0 likes
---
True art required the right amount of uncertainty, just as gourmet cooking needed the proper spices and flavors.
BRIAN HERBERT & KEVIN J. ANDERSON, The Butlerian Jihad
0 likes
---
All things that are living are expression and therefore part of the inherent symbology of life. Art, therefore, that is encumbered with excessive symbolism is extraneous, and from my point of view, useless art. Anyone who understands life needs no handbook of poetry or philosophy to tell him what it is.
MARSDEN HARTLEY, Adventures in Art
0 likes
---
At some point you have to set aside snobbery and what you think is culture and recognize that any random episode of Friends is probably better, more uplifting for the human spirit, than ninety-nine percent of the poetry or drama or fiction or history every published. Think of that. Of course yes, Tolstoy and of course yes Keats and blah blah and yes indeed of course yes. But we're living in an age that has a tremendous richness of invention. And some of the most inventive people get no recognition at all. They get tons of money but not recognition as artists. Which is probably much healthier for them and better for their art.
NICHOLSON BAKER, The Anthologist
0 likes
---
Perhaps it's good for one to suffer. Can an artist do anything if he's happy? Would he ever want to do anything? What is art, after all, but a protest against the horrible inclemency of life?
ALDOUS HUXLEY, Antic Hay
0 likes
---
The final purpose of art is to intensify, even, if necessary, to exacerbate, the moral consciousness of people.
NORMAN MAILER, Western Review, winter 1959
0 likes
---
Nothing is really so poor and melancholy as art that is interested in itself and not in its subject.
GEORGE SANTAYANA, The Life of Reason
0 likes
---
Art never responds to the wish to make it democratic; it is not for everybody; it is only for those who are willing to undergo the effort needed to understand it.
FLANNERY O'CONNOR, Mystery and Manners
0 likes
---
Art like life should be free, since both are experimental.
GEORGE SANTAYANA, The Life of Reason
0 likes
---
It is difficult to prove that any age has been propitious for the artist; Socrates was condemned to death, so were Seneca and Petronius, Dante was exiled, the age of Louis XIV was one of both civil and religious persecution; the nineteenth century, as the lawsuits against Flaubert, Baudelaire, Hugo, etc., show, was not much better; and in the twentieth century there are whole tracts of Europe where to be a writer is to invite a firing-squad. "Silence, exile, and cunning" are the artist's lot, and, exquisite though his happiness will be when his public, educated at last, mobs him like a film-star, we may be wiser to assume that, for our lifetime, "silence, exile, and cunning" it will remain.
CYRIL CONNOLLY, The Condemned Playground
0 likes
---