GOD QUOTES
quotations about God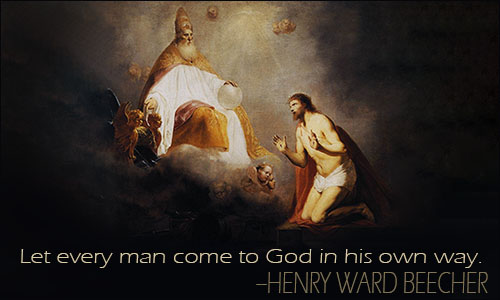 Man is born broken. He lives by mending. The grace of God is glue.
EUGENE O'NEILL, The Great God Brown
2 likes
---
The instrument through which you see God is your whole self. And if a man's self is not kept clean and bright, his glimpse of God will be blurred -- like the Moon seen through a dirty telescope. That is why horrible nations have horrible religions: they have been looking at God through a dirty lens.
C. S. LEWIS, Mere Christianity
2 likes
---
What we attribute to God as his excellency and perfection, that we should propose to ourselves as matter of practice and imitation.
BENJAMIN WHICHCOTE, Moral and Religious Aphorisms
1 likes
---
Fear God and keep his commandments: for this is the whole duty of man.
BIBLE, Ecclesiastes 12:13
1 likes
---
We worship God best when we resemble him most.
BENJAMIN WHICHCOTE, Moral and Religious Aphorisms
1 likes
---
God is that infinite All of which man knows himself to be a finite part.
LEO TOLSTOY, diary
1 likes
---
There exists no separation between gods and men; one blends softly casual into the other.
FRANK HERBERT, Dune Messiah
1 likes
---
Earth's crammed with heaven,
And every common bush afire with God;
But only he who sees, takes off his shoes,
The rest sit round it and pluck blackberries,
And daub their natural faces unaware.
ELIZABETH BARRETT BROWNING, Aurora Leigh
1 likes
---
The only difference between you and God is that you have forgotten you are divine.
DAN BROWN, The Lost Symbol
1 likes
---
God is a concept by which we measure our pain.
JOHN LENNON, God
1 likes
---
An honest God's the noblest work of man.
SAMUEL BUTLER, Further Extracts from the Note Books
1 likes
---
I talk to God but the sky is empty.
SYLVIA PLATH, The Unabridged Journals of Sylvia Plath
1 likes
---
We all have the same God, we just serve him differently. Rivers, lakes, ponds, streams, oceans all have different names, but they all contain water. So do religions have different names, and they all contain truth, expressed in different ways forms and times. It doesn't matter whether you're a Muslim, a Christian, or a Jew. When you believe in God, you should believe that all people are part of one family. If you love God, you can't love only some of his children.
MUHAMMAD ALI, The Soul of a Butterfly
1 likes
---
It should not be so hard to believe in God, for man himself is scarcely less wonderful.
FRANK CRANE, "The Part of Me That Doubts", Four Minute Essays
1 likes
---
God don't make no mistakes, that's how He got to be God.
ARCHIE BUNKER, All in the Family
1 likes
---
What a wonderfully small idea mankind has of the Almighty. My impression is that he has made unchangeable laws to govern this and billions of other worlds and that he has forgotten even the existence of this little mote of ours ages ago.
THOMAS EDISON, diary entry, Jul. 21, 1885
1 likes
---
God is constantly better than his promise. He does not limit Himself by our expectations.
LYMAN ABBOTT, Laicus: Or, The Experiences of a Layman in a Country Parish
1 likes
---
God is our native air. The godless soul gasps out a feeble life in a vacuum. "I will not leave you orphans," saith Christ; "I will come to you." Yet, despite this promise, how many orphaned Christians there are. They are not exactly fatherless. They have a memory of a father in the dim past. They have a hope of a Father in the far future. But now they live without him. They are like travelers in a long and gloomy tunnel. They look back to the days of the patriarchs and prophets. There is light there. They look forward to the revelations of the future life. There is light there. But here and now it is dark.
LYMAN ABBOTT, Old Testament Shadows of New Testament Truths
1 likes
---
In history the name of God is the terrible club with which all divinely inspired men, the great "virtuous geniuses," have beaten down the liberty, dignity, reason, and prosperity of man.
MIKHAIL BAKUNIN, God and the State
1 likes
---
All nature is full of God. He is enthroned in Light: he creates darkness: he hath his way in the whirlwind, fendeth abroad his lightnings, giveth snow like wool, scattereth the hoar-frost like ashes, and casteth forth his ice like morsels! Who can stand before his cold? Who can thunder with a voice like God? It is He who distils the rain from his bottles, who opens the bubbling fountains, who covers the fields with grass, and the hills with flocks, who spins out the fleecy air, and spreads forth the liquid plains, who refreshes us with his wings, lights us with the sun, and entertains us with his table, richly furnish'd with all the dainty of heaven.
WELLINS CALCOTT, Thoughts Moral and Divine
0 likes
---