GOD QUOTES IV
quotations about God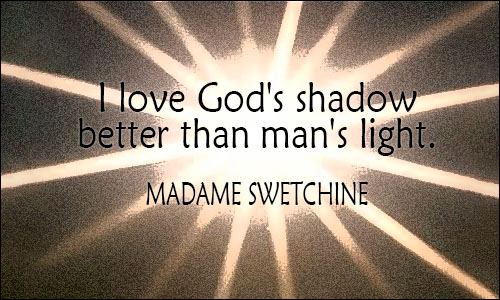 Theologians and philosophers, who make God the creator of Nature and the architect of the Universe, reveal Him to us as an illogical and unbalanced Being. They declare He is benevolent because they are afraid of Him, but they are forced to admit the truth that His ways are vicious and beyond understanding. They attribute a malignity to Him seldom to be found in any human being. And that is how they get human beings to worship Him. For our miserable species would never lavish worship on a just and benevolent God from whom they had nothing to fear.
ANATOLE FRANCE, The Gods Will Have Blood
0 likes
---
I don't know much, but I understand how entirely doomed I am without God.
ANNE LAMOTT, interview, BookBrowse
0 likes
---
At bottom God is nothing more than an exalted father.
SIGMUND FREUD, Totem and Taboo
0 likes
---
We consider the Lord's express declarations concerning himself. There is a majesty in the passages of holy writ, that relate to the natural perfections of God, which vastly exceeds whatever is admired as sublime in Pagan writers. Jehovah speaks of himself, "as the high and lofty One, who inhabiteth eternity;" "heaven is his throne, and the earth his footstool;" "the heaven of heavens cannot contain him;" all "nations before Him are as nothing, they are counted to him as less than nothing and vanity;" "from everlasting to everlasting he is God;" "the almighty, the all-sufficient God:" "His wisdom is infinite;" "there is no searching of his understanding;" "He knoweth all things; he searcheth the hearts of all the children of men;" "yea, knoweth their thoughts afar off;" "there is no fleeing from his presence;" "the light and darkness to him are both alike;" "He dwelleth in light inaccessible; no man hath seen or can see him;" "He doeth what he will in the armies of heaven, and among the inhabitants of the earth;" "His is the kingdom, and the power, and the glory for ever;" "He is most blessed for evermore;" "for with him is no change or shadow of turning." These, and numberless other declarations, expressly and emphatically ascribe eternity, self-existence omnipresence, omnipotence, omniscience, immutability, incomprehensible greatness and majesty, and essential felicity and glory, in full perfection, to the Lord our God.
THOMAS SCOTT, "On the Scripture Character of God", Essays on the Most Important Subjects in Religion
0 likes
---
Lead us, Heavenly Father, lead us
O'er the world's tempestuous sea;
Guard us, guide us, keep us, feed us,
For we have no help but Thee.
JAMES EDMESTON, Lead Us
0 likes
---
I'm not religious in the normal sense. I believe the universe is governed by the laws of science. The laws may have been decreed by God, but God does not intervene to break the laws.
STEPHEN HAWKING, New Scientist, Apr. 26, 2007
0 likes
---
God is subtle, but he is not malicious.
ALBERT EINSTEIN
0 likes
---
To see God everywhere is to see Him nowhere.
CORMAC MCCARTHY, The Crossing
0 likes
---
God is a foreman with certain definite views
Who orders life in shifts of work and leisure.
SEAMUS HEANEY, Docker
0 likes
---
I have known many gods. He who denies them is blind as he who trusts them too deeply.
ROBERT E. HOWARD, "Queen of the Black Coast," Weird Tales (1933)
0 likes
---
The flame of my life burns low
Under the cluttered days,
Like a fire of leaves.
But always a little blue, sweet-smelling smoke
Goes up to God.
KARLE WILSON BAKER, Blue Smoke
0 likes
---
Mankind, transmitting from generation to generation the legacy of accumulated vengeances, and pursuing with the feelings of duty the misery of their fellow-beings, have not failed to attribute to the Universal Cause a character analogous with their own. The image of this invisible, mysterious Being is more or less excellent and perfect -- resembles more or less its original -- in proportion to the perfection of the mind on which it is impressed.
PERCY BYSSHE SHELLEY, "Essay on Christianity"
0 likes
---
God helps them that helps themselves.
BENJAMIN FRANKLIN, Poor Richard's Almanac
0 likes
---
The voice of the Almighty speaks most profoundly in such things as lives in silence themselves.
CORMAC MCCARTHY, Blood Meridian
0 likes
---
God's gifts put man's best dreams to shame.
ELIZABETH BARRETT BROWNING, Sonnets from the Portuguese
0 likes
---
Do you not see the hand of God, which gives harmony, light, and love to the world? Do not the mountains, in the blue cloud of incense, sing their hymn of glory?
LEONID ANDREYEV, He Who Gets Slapped
0 likes
---
Where sanity is
there God is.
D.H. LAWRENCE, "God"
0 likes
---
The great unmentionable evil at the center of our culture is monotheism. From a barbaric Bronze Age text known as the Old Testament, three anti-human religions have evolved -- Judaism, Christianity, and Islam. These are sky-god religions. They are, literally, patriarchal -- God is the Omnipotent Father -- hence the loathing of women for 2,000 years in those countries afflicted by the sky-god and his earthly male delegates.
GORE VIDAL, The Decline and Fall of the American Empire
0 likes
---
God is the perfect poet,
Who in his person acts his own creations.
ROBERT BROWNING, Paracelsus
0 likes
---
The rule of God is not tyranny, for it does not partake of a political or governmental character -- it is not a rule of authority. God is not a governor of the universe, for a governor rules over those of a like nature with himself, and exercises a political and judicial power, while God exercises a creative, a preserving, and a determinative power of an altogether different kind. If I am a servant of God, I am under no tyranny; for God does not govern, but supports, sustains, and directs me.
WILLIAM BATCHELDER GREENE, Remarks on the Science of History
0 likes
---