GOD QUOTES VI
quotations about God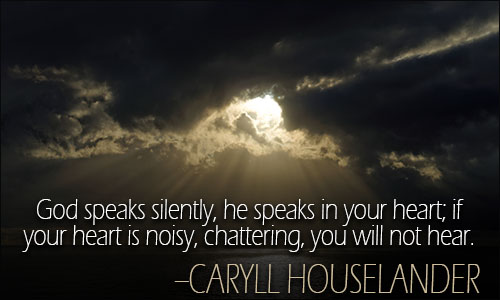 God's beneficence streams out from the morning sun, and his love looks down upon us from the starry eyes of midnight. It is his solicitude that wraps us in the air, and the pressure of his hand, so to speak, that keeps our pulses beating. O! it is a great thing to realize that the Divine Power is always working; that nature, in every valve and every artery, is full of the presence of God.
E. H. CHAPIN, Living Words
0 likes
---
I don't want to start
Any blasphemous rumours
But I think that God's
Got a sick sense of humour
And when I die
I expect to find Him laughing
DEPECHE MODE, "Blasphemous Rumours"
0 likes
---
God is a shower to the heart burned up with grief; God is a sun to the face deluged with tears.
JOSEPH ROUX, Meditations of a Parish Priest
0 likes
---
I do not mind if I lose my soul for all eternity. If the kind of God exists Who would damn me for not working out a deal with Him, then that is unfortunate. I should not care to spend eternity in the company of such a person.
MARY MCCARTHY, Memories of a Catholic Girlhood
0 likes
---
If you want the fire of God, you must become the fuel of God.
TOMMY TENNEY, The God Chasers
0 likes
---
As it is impossible to be outside God, the best is consciously to dwell in Him.
HENRI-FREDERIC AMIEL, Journal Intime
0 likes
---
We need not fear shipwreck when God is the pilot.
HENRY WARD BEECHER, Proverbs from Plymouth Pulpit
0 likes
---
So, loath to suffer mute.
We, peopling the void air,
Make Gods to whom to impute
The ills we ought to bear.
MATTHEW ARNOLD, Empedocles on Etna
0 likes
---
Man ... has an inborn religious sentiment that whispers of a God to his inmost soul, as a shell taken from the deep yet echoes forever the ocean's roar.
HORACE MANN, Thoughts
0 likes
---
Everyone who believes in God carries around a basic assumption of how God acts in relation with us. The French novelist Flaubert said that a great writer should stand in his novel like God in his creation: nowhere to be seen, nowhere to be heard. God is everywhere and yet invisible, silent, seemingly absent and indifferent. A few intellectuals may enjoy worshiping such an absentee God, but most Christians prefer Jesus' image of a God as a loving father. We need more than a watchmaker who winds up the universe and lets it tick. We need love and mercy and forgiveness and grace -- qualities only a personal God can offer.
PHILIP YANCEY, Reaching for the Invisible God: What Can We Expect to Find?
0 likes
---
God, possessing supreme and infinite wisdom, acts in the most perfect manner, not only metaphysically, but also morally speaking, and ... with respect to ourselves, we can say that the more enlightened and informed we are about God's works, the more we will be disposed to find them excellent and in complete conformity with what we might have desired.
GOTTFRIED WILHELM LEIBNIZ, Discourse on Metaphysics
0 likes
---
Nothing more shows the low condition Man is fallen into, than the unsuitable notion we must have of God, by the ways we take to please him.
WILLIAM PENN, Some Fruits of Solitude
0 likes
---
Curiously, neither God nor the devil may wear modern dress, but must retain Grecian vestments.
SINCLAIR LEWIS, Nobel Lecture, December 12, 1930
0 likes
---
God is a lion that comes in the night. God is a hawk gliding among the stars--
If all the stars and the earth, and the living flesh of the night that flows in between them, and whatever is beyond them
Were that one bird. He has a bloody beak and harsh talons, he pounces and tears.
ROBINSON JEFFERS, "The Inhumanist"
0 likes
---
God is the place of spirits, as spaces are the places of bodies.
JOHN LOCKE, "An Examination of P. Malebranche's Opinion of Seeing All Things in God", Philosophical Works
0 likes
---
I don't believe in God, but I miss him.
JULIAN BARNES, Conversations with Julian Barnes
0 likes
---
The experience of personal communication with God is as universal as the human race. Appreciation of the divine presence is more common than appreciation of art, music, or literature. Men and women who do not respond to music, see no beauty in pictures, never read, and could not understand literature if it were read to them, yet find comfort in sorrow, strength in temptation, courage in danger, and added joy in their enjoyments from the sense of a Father's presence.
LYMAN ABBOTT, Seeking After God
0 likes
---
Those who are crafty, think the wisdom of God warrants him to deceive; those who are revengeful, think the goodness of God permits him to be cruel; those who are arbitrary, think the sovereignty of God is the account of his actions. Everyone attributes to God, what he finds in himself: but that cannot be a perfection in God, which is a dishonesty in Man.
BENJAMIN WHICHCOTE, Moral and Religious Aphorisms
0 likes
---
As long as God does not intervene in the contemporary universe in such a way as to violate physical laws, science has no way of knowing whether God exists or not. The belief or disbelief in such a Being is therefore a matter of faith.
ALAN LIGHTMAN, "Does God exist?", Salon, October 2, 2011
0 likes
---
God never made his work for man to mend.
JOHN DRYDEN, Epistle to John Driden of Chesterton, 1700
0 likes
---