GOD QUOTES II
quotations about God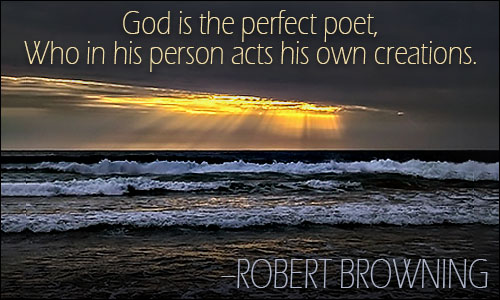 God moves in a mysterious way
His wonders to perform;
He plants his footsteps in the sea,
And rides upon the storm.
WILLIAM COWPER, Olney Hymns
0 likes
---
It is said that God notes each sparrow that falls. And so He does. But the proper closest statement of it that can be made in English is that God cannot avoid noting the sparrow because the Sparrow is God. And when a cat stalks a sparrow both of them are God, carrying out God's thoughts.
ROBERT A. HEINLEIN, Stranger in a Strange Land
0 likes
---
God is a witness that cannot be sworn.
SAMUEL BECKETT, Watt
0 likes
---
To believe there is a God is to believe the existence of all possible Good and Perfection in the Universe: And it is to be resolved upon this--that things either are, or finally shall be, as they should be.
BENJAMIN WHICHCOTE, Moral and Religious Aphorisms
0 likes
---
God is Alpha and Omega in the great world, let us endeavour to make him so in the little world; let us practice to make him our last thought at night when we sleep; and our first in the morning when we awake; so shall our fancy be sanctified in the night, and our understanding rectified in the day; so shall our rest be peaceful, and our labours prosperous; our life pious, and our death glorious.
WELLINS CALCOTT, Thoughts Moral and Divine
0 likes
---
I cannot conceive of a God who rewards and punishes his creatures, or has a will of the type of which we are conscious in ourselves. An individual who should survive his physical death is also beyond my comprehension, nor do I wish it otherwise; such notions are for the fears or absurd egoism of feeble souls.
ALBERT EINSTEIN, The World as I See it
0 likes
---
Many people choose to believe that God communicates in special ways and only with special people. This removes the mass of the people from responsibility for hearing My message, much less receiving it (which is another matter), and allows them to take someone else's word for everything. You don't have to listen to Me, for you've already decided that others have heard from Me on every subject, and you have them to listen to.
NEALE DONALD WALSCH, Conversations with God
0 likes
---
God can be good and terrible--not in succession--but at the same time. This is why we seek a mediator between us and him; we approach him through the mediating priest and attenuate and enclose him through the sacraments. It is for our own safety: to trap him within confines which render him safe.
PHILIP K. DICK, Valis
0 likes
---
Maybe there isn't a God after all, maybe there's only a universe rotating by itself like a millstone.
GAO XINGJIAN, The Other Shore
0 likes
---
Ignorance of nature's ways led people in ancient times to invent gods to lord it over every aspect of human life. There were gods of love and war; of the sun, earth, and sky; of the oceans and rivers; of rain and thunderstorms; even of earthquakes and volcanoes. When the gods were pleased, mankind was treated to good weather, peace, and freedom from natural disaster and disease. When they were displeased, there came draught, war, pestilence, and epidemics. Since the connection of cause and effect in nature was invisible to their eyes, these gods appeared inscrutable, and people at their mercy.
STEPHEN HAWKING & LEONARD MLODINOW, The Grand Design
0 likes
---
What shall I do, if all my love,
My hopes, my toil, are cast away,
And if there be no God above,
To hear and bless me when I pray?
ANNE BRONTE, The Doubter's Prayer
0 likes
---
Gods are great ... but the heart is greater. For it is from our hearts they come, and to our hearts they shall return.
NEIL GAIMAN, American Gods
0 likes
---
The longer I live and the more I see
Of the struggle of souls toward the heights above,
The stronger this truth comes home to me:
That the Universe rests on the shoulders of love;
A love so limitless, deep, and broad,
That men have renamed it and called it--God.
ELLA WHEELER WILCOX, "Deathless"
0 likes
---
The most radical thing about a conversion to God is the determination to love, to really love in His name.
ANNE RICE, The Wolves of Midwinter
0 likes
---
Where there is most of God, there is least of self.
BENJAMIN WHICHCOTE, Moral and Religious Aphorisms
0 likes
---
The way to God is by our selves.
PHINEAS FLETCHER, The Purple Island
0 likes
---
All things that God would have us do are hard for us to do--remember that--and hence, he oftener commands us than endeavours to persuade.
HERMAN MELVILLE, Moby Dick
0 likes
---
All powers, all laws, are but the fair
Embodied thoughts of God.
JOHN STUART BLACKIE, All things are full of God
0 likes
---
I don't understand worshipping a god who denigrates women and whose 'true believers' feel it's their right to look down on anyone who doesn't think exactly as they do.
P.C. CAST & KRISTIN CAST, Chosen
0 likes
---
I cannot help thinking that the best way of knowing God is to love many things. Love this friend, this person, this thing, whatever you like, and you will be on the right road to understanding Him better.
VINCENT VAN GOGH, letter to Theo van Gogh, Jul. 1880
0 likes
---