GOD QUOTES III
quotations about God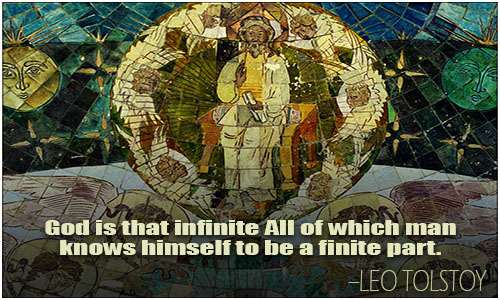 What I have done is to show that it is possible for the way the universe began to be determined by the laws of science. In that case, it would not be necessary to appeal to God to decide how the universe began. This doesn't prove that there is no God, only that God is not necessary.
STEPHEN HAWKING, Der Spiegel, Oct. 17, 1988
0 likes
---
The nearer the Church the further from God.
LANCELOT ANDREWES, Sermon on the Nativity before James I
0 likes
---
Gods die when they are forgotten.
NEIL GAIMAN, American Gods
0 likes
---
God is dead: but considering the state of the species Man is in, there will perhaps be caves, for ages yet, in which his shadow will be shown.
FRIEDRICH NIETZSCHE, Die frohliche Wissenschaft
0 likes
---
Be careful how you talk about God. He's the only God we have. If you let him go he won't come back. He won't even look back over his shoulder. And then what will you do?
HAROLD PINTER, Ashes to Ashes
0 likes
---
God's mouth knows not how to speak falsehood, but he brings to pass every word.
AESCHYLUS, Prometheus Bound
0 likes
---
And almost every one when age,
Disease, or sorrows strike him,
Inclines to think there is a God,
Or something very like Him.
ARTHUR HUGH CLOUGH, Dipsychus
0 likes
---
I suggest that the anthropomorphic god-idea is not a harmless infirmity of human thought, but a very noxious fallacy, which is largely responsible for the calamities the world is at present enduring.
WILLIAM ARCHER, William Archer as Rationalist: A Collection of His Heterodox Writings
0 likes
---
There is a God and He is good, and his love, while free, has a self imposed cost: We must be good to one another.
GEORGE H.W. BUSH, RNC acceptance speech, August 18, 1988
0 likes
---
What art Thou then, my God? what, but the Lord God? For who is Lord but the Lord? or who is God save our God? Most highest, most good, most potent, most omnipotent; most merciful, yet most just; most hidden, yet most present; most beautiful, yet most strong; stable, yet incomprehensible; unchangeable, yet all-changing; never new, never old; all-renewing, and bringing age upon the proud, and they know it not; ever working, ever at rest; still gathering, yet nothing lacking; supporting, filling, and overspreading; creating, nourishing, and maturing; seeking, yet having all things.
ST. AUGUSTINE, Confessions
0 likes
---
They are always saying God loves us. If that's love I'd rather have a bit of kindness.
GRAHAM GREENE, The Captain and the Enemy
0 likes
---
God's voice had been reduced to paper, and even that paper had to be moderated and deciphered by the proper authorities and intellect.
WM. PAUL YOUNG, The Shack
0 likes
---
It is hardly to be believed how spiritual reflections when mixed with a little physics can hold people's attention and give them a livelier idea of God than do the often ill-applied examples of his wrath.
GEORG CHRISTOPH LICHTENBERG, "Notebook A", Aphorisms
0 likes
---
A mighty fortress is our God,
A bulwark never failing.
Our helper He amid the flood
Of mortal ills prevailing.
MARTIN LUTHER, Psalm. Ein feste Burg ist unser Gott
0 likes
---
When men make gods, there is no God!
EUGENE O'NEILL, Lazarus Laughed
0 likes
---
God is only a word dreamed up to explain the world.
ALPHONSE DE LAMARTINE, "Le Tombeau d'une mère", Harmonies
0 likes
---
Christianity is haunted by the theory of a God with a craving for bloody sacrifices.
J.B.S. HALDANE, Possible Worlds and Other Papers
0 likes
---
Soul of the universe, Sire, God, Creator,
Lord, I believe in Thee, 'neath all these names:
And without having need to hear thy word,
In the sky's brow my glorious creed I trace.
ALPHONSE DE LAMARTINE, "Prayer", Poetical Meditations
0 likes
---
After 9/11, there were a lot of things being said about how the God of Islam and the God of the Christian faith were one and the same, but that's simply not true ... The God that I worship does not require me to kill other people. The God that I worship tells me I am to love my enemy, to give him food when he's hungry and water when he's thirsty.
FRANKLIN GRAHAM, Newsweek, Aug. 14, 2006
0 likes
---
'Twas only fear first in the world made gods.
BEN JONSON, Sejanus
0 likes
---