ART QUOTES V
quotations about art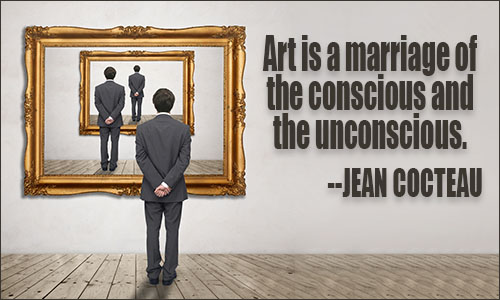 Art is the magic mirror you make to reflect your invisible dreams in visible pictures. You use a glass mirror to see your face: you use works of art to see your soul.
GEORGE BERNARD SHAW, Back to Methuselah
1 likes
---
Nothing touches a work of art so little as words of criticism: they always result in more or less fortunate misunderstandings. Things aren't all so tangible and sayable as people would usually have us believe; most experiences are unsayable, they happen in a space that no word has ever entered, and more unsayable than all other things are works of art, those mysterious existences, whose life endures beside our own small, transitory life.
RAINER MARIA RILKE, letter, Feb. 17, 1903, Letters to a Young Poet
1 likes
---
The function of the artist is to provide what life does not.
TOM ROBBINS, Another Roadside Attraction
1 likes
---
Art is magic delivered from the lie of being truth.
THEODOR W. ADORNO, Minima Moralia
1 likes
---
Art is two things: a search for a road and a search for freedom.
ALICE NEEL, "Art Is a Form of History", Theories and Documents of Contemporary Art: A Sourcebook of Artists' Writings
1 likes
---
I want to meet a guy named Art. I'd take him to a museum, hang him on the wall, criticize him, and leave.
JAROD KINTZ, I Want
1 likes
---
Everyone wants to understand art. Why not try to understand the songs of a bird? Why does one love the night, flowers, everything around one, without trying to understand them? But in the case of a painting people have to understand. If only they would realize above all that an artist works of necessity, that he himself is only a trifling bit of the world, and that no more importance should be attached to him than to plenty of other things which please us in the world, though we can't explain them.
PABLO PICASSO, Picasso on Art: A Selection of Views
1 likes
---
Never judge a work of art by its defects.
WASHINGTON ALLSTON, attributed, A Dictionary of Thoughts: Being a Cyclopedia of Laconic Quotations from the Authors of the World, both Ancient and Modern
1 likes
---
No longer can we consider what the artist does to be a self-contained activity, mysteriously inspired from above, unrelated and unrelatable to other human activities. Instead, we recognize the exalted kind of seeing that leads to the creation of great art as an outgrowth of the humbler and more common activity of the eyes in everyday life. Just as the prosaic search for information is "artistic" because it involves giving and finding shape and meaning, so the artist's conceiving is an instrument of life, a refined way of understanding who and where we are.
RUDOLF ARNHEIM, Art and Visual Perception: A Psychology of the Creative Eye
1 likes
---
A craftsman knows in advance what the finished result will be, while the artist knows only what it will be when he has finished it.
W. H. AUDEN, "A Poet of the Actual", Forewords and Afterwords
1 likes
---
Only lifeless mechanisms move along faultlessly straight lines and compass circles. In art the surest way to destroy is to canonize one given form and one philosophy: that which is canonized quickly dies of obesity, of entropy.
YEVGENY ZAMYATIN, The New Russian Prose
1 likes
---
Now the culture is made of old things, it's a collage. Art made out of art is not art. You're supposed to make art out of life.
FRAN LEBOWITZ, interview, Paper Magazine, September 17, 2014
1 likes
---
That is one of the things a great work of art does. It stays there waiting for you to come back to it, and it shows you who you are now, each time a little different.
DANA SPIOTTA, Innocents and Others
1 likes
---
Thus, then ... are the three differences which distinguish artistic imitation: the medium, the objects, and the manner.
ARISTOTLE, Poetics
1 likes
---
Art was as much in the activity as in the results. Works of art were not just the finished product, but the thought, the action, the process that created them.
JEAN M. AUEL, The Mammoth Hunters
1 likes
---
Art never expresses anything but itself.
OSCAR WILDE, The Decay of Lying
0 likes
---
The art of art, the glory of expression, and the sunshine of the light of letters, is simplicity.
WALT WHITMAN, preface, Leaves of Grass
0 likes
---
To know how to produce a work of art is to know how to discard the extraneous.
LAURA ESQUIVEL, The Law of Love
0 likes
---
For me, Art is the restoration of order. It may discuss all sort of terrible things, but there must be satisfaction at the end. A little bit of hunger, but also satisfaction.
TONI MORRISON, interview with Don Swaim, 1987
0 likes
---
There are only two styles of portrait painting: the serious and the smirk.
CHARLES DICKENS, Nicholas Nickleby
0 likes
---