ART QUOTES IV
quotations about art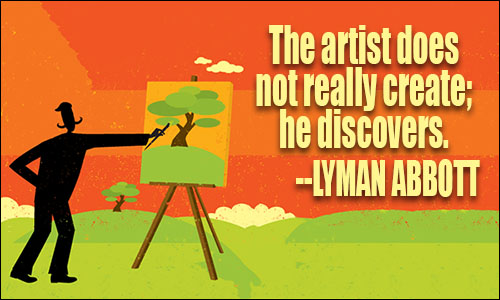 Art is the uniting of the subjective with the objective, of nature with reason, of the unconscious with the conscious, and therefore art is the highest means of knowledge.
LEO TOLSTOY, What Is Art?
1 likes
---
Art is the method of levitation, in order to separate one's self from enslavement by the earth.
ANAIS NIN, The Journals of Anais Nin
1 likes
---
Art knows, life applies knowledge; art feels, life acts.
AUSTIN O'MALLEY, Keystones of Thought
1 likes
---
Art is awkward until technique has become an unconscious habit.
AUSTIN O'MALLEY, Keystones of Thought
1 likes
---
There's nothing like drawing a thing to make you really see it.
MARGARET ATWOOD, The Year of the Flood
1 likes
---
Art is not a mirror held up to reality but a hammer with which to shape it.
BERTOLT BRECHT, attributed, Decade of Protest
1 likes
---
One of the pleasures of art is that it enables the mind to move in unanticipated directions, to make connections that may be in some sense errors but are fruitful nonetheless.
DONALD BARTHELME, "Reifications"
1 likes
---
If they don't know what you're doin'
Babe it must be art.
U2, "Hold Me, Thrill Me, Kiss Me, Kill Me"
1 likes
---
Art ... is a foreign city, and we deceive ourselves when we think it familiar.
JEANETTE WINTERSON, Art Objects
1 likes
---
I feel that art has something to do with the achievement of stillness in the midst of chaos. A stillness that characterizes prayer, too, and the eye of the storm.
SAUL BELLOW, The Paris Review, winter 1966
1 likes
---
The particulars of life do not matter to the artist; they merely provide him with the opportunity to lay bare his genius.
MARCEL PROUST, Within a Budding Grove
1 likes
---
What an artist does, is fail. Any reading of the literature... (I mean the literature of artistic creation), however summary, will persuade you instantly that the paradigmatic artistic experience is that of failure. The actualization fails to meet, equal, the intuition. There is something "out there" which cannot be brought "here". This is standard. I don't mean bad artists, I mean good artists. There is no such thing as a "successful artist" (except, of course, in worldly terms).
DONALD BARTHELME, "The Sandman"
1 likes
---
The reward of art is not fame or success but intoxication.
CYRIL CONNOLLY, The Unquiet Grave
1 likes
---
Every artist joins a conversation that's been going on for generations, even millennia, before he or she joins the scene.
JOHN BARTH, attributed, Writers Dreaming
1 likes
---
Art is the signature of man.
G. K. CHESTERTON, The Everlasting Man
1 likes
---
It seems to me that the arts are rather flourishing. There's an awful lot of bad art about because of this, but that's true of every great era. I'm sure there was a lot dreadful art in the Renaissance that we fortunately don't see today.
LOUIS AUCHINCLOSS, The Atlantic, Oct. 15, 1997
1 likes
---
Art achieves all little things by absolute truth: but all her great things need some admixture of illusion.
RICHARD GARNETT, De Flagello Myrtes
1 likes
---
Some people are born to make great art and others are born to appreciate it.... It's a kind of talent in itself, to be an audience, whether you are a spectator in the gallery or you are listening to the voice of the world's greatest soprano. Not everyone can be an artist. There have to be those who witness the art, who love and appreciate what they have been privileged to see.
ANN PATCHETT, Bel Canto
1 likes
---
Art consists in making others feel what we feel.
FERNANDO PESSOA, The Book of Disquiet
1 likes
---
A peculiar work in any art must not be too hastily judged. New styles have to create new tastes.
CHRISTIAN NESTELL BOVEE, Intuitions and Summaries of Thought
1 likes
---