ART QUOTES III
quotations about art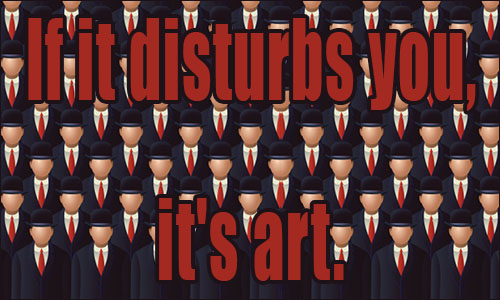 An artist cannot speak about his art any more than a plant can discuss horticulture.
JEAN COCTEAU, Newsweek, May 16, 1955
2 likes
---
Art -- the one achievement of man which has made the long trip up from all fours seem well advised.
JAMES THURBER, Collecting Himself
2 likes
---
The difference between the first and second-best things in art absolutely seems to escape verbal definition -- it is a matter of a hair, a shade, an inward quiver of some kind -- yet what miles away in the point of preciousness!
WILLIAM JAMES, letter to Henry Rutgers Marshall, Feb. 7, 1899
2 likes
---
Nature is a haunted house -- but Art -- a House that tries to be haunted.
EMILY DICKINSON, letter to T. W. Higginson, 1876
2 likes
---
I believe art is utterly important. It is one of the things that could save us. We don't have to rely totally on experience if we can do things in our imagination.... It's the only way in which you can live more lives than your own. You can escape your own time, your own sensibility, your own narrowness of vision.
MARY OLIVER, The Christian Science Monitor, Dec. 9, 1992
2 likes
---
An artist who dedicates his life to art, burdens his art with his life, and his life with his art.
AD REINHARDT, "Twelve Rules for a New Academy", Theories and Documents of Contemporary Art: A Sourcebook of Artists' Writings
2 likes
---
Art ... is an attempt to bring order out of chaos.
STEPHEN SONDHEIM, interview, July 5, 2005
1 likes
---
A copy of the universe is not what is required of art; one of the damned things is ample.
REBECCA WEST, The Strange Necessity
1 likes
---
Whether it is the beautiful that brings to our hearts the love of truth and justice, or whether it is truth that teaches us how to find the beautiful in nature and how to love it, in either case art does a noble work. It drags out the soul from its everyday shell, and brings it under the spell of its own mysterious and wonderful power, so that a memory of this experience stays with the people, sustains them in their daily labors, and refines their minds.
HELENA MODJESKA, "Women and the Stage", The World's Congress of Representative Women
1 likes
---
Without tradition, art is a flock of sheep without a shepherd. Without innovation, it is a corpse.
WINSTON CHURCHILL, speech to Royal Academy of Art, 1953
1 likes
---
Every work of art is an uncommitted crime.
THEODOR WIESENGRUND ADORNO, Minima Moralia
1 likes
---
All art is political in the sense that it serves someone's politics.
AUGUST WILSON, The Paris Review, Winter 1999
1 likes
---
If they who understand the utmost refinement of any art will enjoy the perfection of it in a manner superior to other men, will they not amply pay for that advantage in feeling more than other men the imperfection of it, which in the natural course of things must so much oftener fall in their way?
FULKE GREVILLE, Maxims, Characters, and Reflections
1 likes
---
No art is possible without a dance with death.
KURT VONNEGUT, Slaughterhouse-Five
1 likes
---
The arts are not just a nice thing to have or to do if there is free time or if one can afford it. Rather, paintings and poetry, music and fashion, design and dialogue, they all define who we are as a people and provide an account of our history for the next generation.
MICHELLE OBAMA, remarks at the ribbon cutting ceremony for the Metropolitan Museum of Art American Wing, May 18, 2009
1 likes
---
At one point cinema and photography weren't treated as art. Now it's crazy to think they're not. The key question is "What is art today?" The most important artists of the last 20 years are Steve Jobs and Jonathan Ive, because the influence they have had is incredible and they've changed the world. That is art.
FERRAN ADRIA, Disegno Daily, Apr. 28, 2014
1 likes
---
When I reflect that the task which the artist implicitly sets himself is to overthrow existing values, to make of the chaos about him an order which is his own, to sow strife and ferment so that by the emotional release those who are dead may be restored to life, then it is that I run with joy to the great and imperfect ones, their confusion nourishes me, their stuttering is like divine music to my ears.
HENRY MILLER, Tropic of Cancer
1 likes
---
Art is a way of knowing what it is we actually believe.
PAT. B. ALLEN, Art Is a Way of Knowing
1 likes
---
The idea of beauty is the fundamental idea of everything. In the world we see only distortions of the fundamental idea, but art, by imagination, may lift itself to the height of this idea. Art is therefore akin to creation.
LEO TOLSTOY, What Is Art?
1 likes
---
Great works of art are only great because they are accessible and comprehensible to everyone.
LEO TOLSTOY, What Is Art?
1 likes
---